Swim Spas, Therapy Pools & Plunge Pools
Since 1986, SwimEx has been manufacturing superior quality swim spas, and aquatic training and therapy machines, designed and built to stand the test of time. SwimEx pools are renowned for their versatility, unique fiberglass construction and water current technology, and easy maintenance. Together with our excellence in customer service, this sets us far above the competition.
For homeowners, hospitals, physical therapy clinics, veterinarians, elite athletes, sports teams, health clubs, military and veterans' facilities, and senior communities, SwimEx provides the ultimate aquatic experience for exercise, training, rehabilitation and well-being. Many of our customers share that their SwimEx swim spa has changed their lives!
We're a family-owned company, and our pools are proudly custom-made in the USA.
Why Choose a SwimEx Pool?
Why the SwimEx "wall of water" works better
Powered by the unique paddlewheel system, the SwimEx "wall of water" is as wide as the pool and up to 30″ (76cm) deep. This means that no matter where you're swimming, running or exercising in the pool, you feel an even, consistent water resistance.
With 99 water current speed settings, SwimEx swim spas can accommodate all ability levels. The current is strong enough to challenge the most competitive athlete yet gentle enough for recreational swimming, rehabilitation and recovery.
Exclusive Water Flow Technology
SwimEx is the only company in the world to offer paddlewheel water current technology in its resistance pools (with the exception of our entry-level Triton pool, which uses a propeller-driven current). This exclusive system provides the deepest, widest, and smoothest current flow on the market.
Read more about our paddlewheel technology and its benefits compared with other types of pool current on the market, and discover the versatility of our handcrafted swim spas. Find out about the superiority of fiberglass over other methods of pool construction. And compare SwimEx with our main competitor.
What questions do you need to ask before buying a swim spa?
Our guide covers your key considerations, as well as the advantages of owning a small pool with a water current feature.
From your first contact with us, you will get the best customer service in the industry, across the USA and worldwide.
Our experts are here to assist you during the decision-making process, with pool design and customizations, when you're ready to install, and after installation with yearly service and maintenance.
Our commitment extends beyond sales and service. We are always available to respond to any questions you might have, no matter how long you've owned your SwimEx pool.
See why SwimEx swim spas are number one for water exercise and therapy:
Professional Training & Therapeutic Pools
Our customers agree that the construction quality of SwimEx pools combined with our superior service adds up to a sound investment!
SwimEx motion pools are preferred by professionals worldwide as the most effective and versatile on the market for rehabilitation, recovery, and fitness.
Our pools can be customized for specific training and treatment protocols and objectives for any ability level. You can choose multiple depths, inset floors, performance zones, and drop-in workout tools such as a treadmill or cycle.
Outcomes for billing documentation can be accurately measured based on water speeds, exercises performed and ROM.
In-house pool design service
Our field technicians can expertly guide you and your contractors with space layouts, CAD drawings, technical information and installation details.
Our in-house engineering team can help you design an aquatic therapy room for your facility.
We also provide resources for architects.
SwimEx plunge pools help to create the ultimate environment for recovery, rehabilitation, and relaxation. The modular fiberglass design is ideal for locker rooms, aquatic therapy rooms, and resorts. There are four standard sizes, or we can help you to design a custom plunge pool that suits your specific rehab or layout requirements.
See our commercial plunges.
Our professional clients & the benefits we deliver
Hospital and physical therapists trust SwimEx because patients feel safer, start therapy sooner, recover faster, and get the most out of their exercise. Client treatment plans can be tailored for specific outcomes, based on their abilities. The adjustable pool-wide current allows practitioners to consistently measure progress from one session to the next for accurate billing.
Athletic trainers use SwimEx therapy pools and plunge pools to get athletes back in the game faster and keep them conditioned as they rehabilitate and exercise.
SwimEx warm water pools are ideal for veterinarians. Our model 400 T, for example, can be built with a ramp, allowing for easy entry and exit. The resistance created by the paddlewheel current, assisted by an optional underwater treadmill, provides great rehab, and animals return to full function sooner.
Military branches and veterans' homes around the nation prefer SwimEx resistance pools for training, research and rehabilitation. The powerful, adjustable water current provides a consistent flow to accurately measure results.
Aquatic exercise for seniors can help manage common medical conditions and improve overall health and well-being. A SwimEx aquatic therapy pool is an ideal tool to aid recovery following injury or for post-surgery rehab.
Our commercial custom spas are perfectly suited for hotels and resorts. Create a stunning aquatic feature to suit any scenario. Vary the length, depth, color, benches, stairs, tile color, and more.
Browse our resource hub for athletes, trainers, and aquatic therapists, including treatment regimes and water exercises.
"SwimEx sets the standard in aquatic treatment and rehabilitation, which is why they are the only choice for us."
"We have had tremendous results in treating our athletes in the SwimEx pool. Not only has it helped speed the recovery of America's injured athletes, it also offers tremendous benefits in athletic training. Many of our athletes run and swim against the current, which gives them an incredible workout."
"It's a huge factor in why people come here. Out of 400 visits per month, aquatic rehab is 60 to 70 percent of our patients. Our usage has exceeded projections and we're very busy – it's a better investment than we had thought. Given our caseload, I'd say we're on track to pay off the pool in half the time we projected."
"We love the SwimEx pool at our canine rehabilitative facility. The current definitely allows us to challenge our agility patients and help strengthen our cases recovering from surgery. The controls inside the pool easily allow us to make adjustments to the workout during the session. We have found that keeping it clean is very low maintenance as well. I would highly recommend the SwimEx pool to any rehabilitative facility."
Residential Swim Spas & Exercise Pools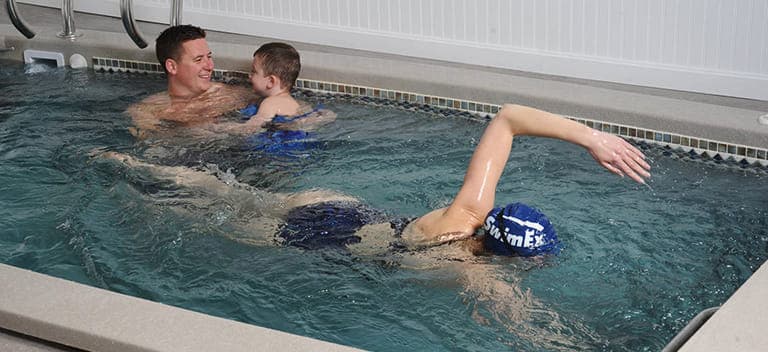 Enjoy pain-free exercise, entertain and relax, or teach your children to swim right in your own home with the ultimate oasis and aquatic machine in one pool.
The properties of water make it the ideal medium for exercising, recovering from injury, joint replacements, and managing long-term health conditions.
Every pool is built to your specifications with countless custom options possible, so it looks great in your home and meets your specific lifestyle, exercise or rehabilitation needs.
Get inspired by the incredible range of pool design possibilities for your SwimEx swim spa.
We provide installation guidance as well as resources for architects to help build your swim spa, whether it's an indoor, outdoor, above ground or in-ground pool.
For lap swimmers, athletes, or those looking for life-changing rehab, SwimEx pools and service will exceed your expectations!
Exercise, entertain, and relax with a stunning water feature that is the ultimate home oasis.
Our small jetted pools require less space and cost less than full-sized pools. They are also easy to maintain. We can customize your pool to match the design of your home and your specific requirements.
"I have to admit the SwimEx 400 has been one of the most reliable products we have ever purchased. It stays warm all year, it is very easy to maintain (a cup of chlorine once a week) and the paddlewheel keeps on turning. Just change the oil once a year and it is good to go."
"Having a SwimEx in our home has enabled us to swim daily throughout the year. SwimEx is the best investment we have ever made for fitness. It gives us the advantages of a full-size lap pool without the space, cost and maintenance requirement."
"I love to show off our SwimEx pool. It is by far the best purchase I have ever made."
"I have been enjoying my SwimEx pool since 2008. When I'm in the pool my body feels totally liberated. Many friends have noticed my improved balance and physical endurance since I started using the pool. Joyfully a SwimEx owner and user."