When comparing a SwimEx with an Endless Pool, or indeed any other swim spa brand, it is important to consider water flow, construction quality, noise level, and what custom options are available.
SwimEx paddlewheel beats Endless propeller
Both the SwimEx and the Endless Pool offer a better flow than standard jetted lap pools or swim spas.
However, while an Endless Pool uses a propeller to push the water flow, the industry-exclusive paddlewheel technology of a SwimEx pulls the water to the rear of the pool.
This innovation results in a wider and deeper current than an Endless Pool. You can be anywhere in a SwimEx pool and still take advantage of the current. In fact, SwimEx offers the deepest and widest swim spa current on the market.
Also, the current in a SwimEx pool has 99 speed settings and moves up to 25,000 gallons per minute in a smooth river-like flow. An Endless Pool only moves up to 5,000 gallons per minute.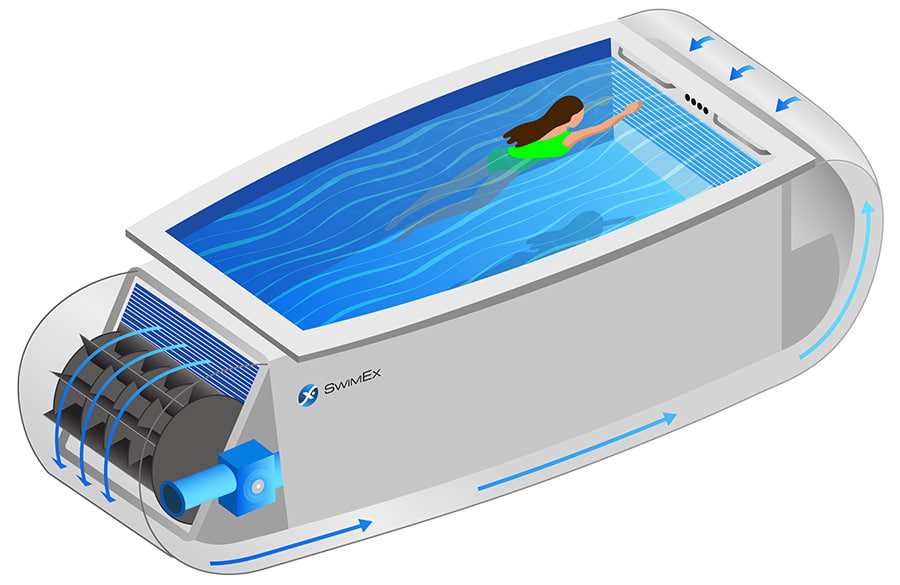 Built to last and easy to maintain
The original Endless swimming pool, which offers their best water flow, is made with a vinyl liner in a galvanized steel shell. The liner needs to be replaced every 7-10 years.
Made from strong fiberglass composite, all SwimEx pools have the same durable construction as fiberglass boats. The proven design formula sandwiches a balsa wood core between layers of fiberglass, resin and gel coat for an indestructible, low-maintenance pool wall with no liners to replace.
The hydraulic motor with an Endless Pool is recommended for replacement every 5-7 years. SwimEx pools, on the other hand, use industrial grade motors to power the paddlewheel which are designed to run continuously. This means that your SwimEx motor will run for decades – we have owners still operating with motors over 30 years old!
The hydraulic motor that drives the Endless Pool is loud but can be located up to 75 feet away. The SwimEx drive system is mounted below your decking at the rear of the pool, so noise levels are at a minimum for both swimmers and those sharing the space.
In addition, an Endless Pool has 3 liner choices, whereas with a SwimEx you have many color options available.
"We waited for twenty years to get a therapy pool, researched all possible options, and found SwimEx to be clearly the best. The paddlewheel technology provides a complete swim, unlike jets that offer just one narrow swim lane. The motor is much quieter than the other models we evaluated, and the pool is easy to clean. We haven't had any issues with the pool, we just love it. It has been a lifesaver!"
~ Amy A.
Experience our exceptional pools
At SwimEx, every pool is built to your exact specifications with countless custom options so it looks great in your home and meets your specific needs, whether that's for health and therapy, or relaxation and entertainment.
FIND THE RIGHT POOL FOR YOUR HOME
Searching for the perfect pool? Simply answer a few questions about your preferences and instantly get your tailored pool recommendations.