What Makes a SwimEx Swim Spa Different?
Exclusive fiberglass swim spa construction, advanced technology, and superior service
SwimEx is known worldwide for superior pool design and unsurpassed service. From innovative construction to the most advanced water current on the market, SwimEx motion pools are powerful, effective, and quality built – for life.
10 standout SwimEx fiberglass swim spa features
The SwimEx paddlewheel flow is the smoothest, deepest, and widest water current on the market.
Insulated fiberglass shell efficiently maintains water temperature, helping to minimize expenses and eliminate costly dehumidification systems.
Solid, compact, free-standing shell allows for indoor, outdoor, above ground, partially above-ground or in-ground installations.
Gelcoat interior surface is easy to maintain and a breeze to clean.
Customize the color, length, depth and interior layout.
Adjustable current makes it possible to accurately monitor progress and measure outcomes from one pool session to the next.
Fiberglass is impervious to sun and chemicals, even with the highest commercial use.
Chemicals are easy to control. With the optional ozonator, pools can be virtually chemical-free.
All walking areas feature a non-slip surface for safe movement.
Paddlewheel swim spa: the birth of a brilliant idea
In 1986, fiberglass pioneer Everett Pearson acquired the SwimEx paddlewheel patents from an MIT hydrodynamicist and research team. Originally recognized for founding Pearson Yachts, this gifted entrepreneur utilized his 30 years of design experience to create the first fiberglass swim spa. Through Pearson's brilliant ingenuity and vision, SwimEx became the leader in aquatic exercise and therapy for athletic training rooms, hospitals, physical therapy clinics, health clubs, senior communities, and private homes.
SwimEx is still owned and operated by the Pearson family.
The SwimEx paddlewheel water system combines power and performance for the most advanced resistance current on the market.
This unique system pulls water toward the rear of the pool, then propels the water back to the front of the pool through tunnels to generate a pool-width "wall of water" that can run as deep as 30″ (76 cm). It can circulate up to 25,000 gallons of water per minute in a smooth, river-like current.
Driven by an industrial electric gear motor and variable speed control system, the paddlewheel attaches directly to the pool and requires no additional support.
The paddlewheel flow gives competitive and recreational swimmers a superior aquatic swimming and exercise experience. If you love to swim, this is the most powerful motion pool on the market. And, if you're looking to work out or need aquatic therapy for recovery and rehabilitation, our industry-exclusive paddlewheel pools are the only resistance pool models that will provide you with a complete aquatic environment for unlimited exercise routines or therapy protocols.
Find out more about why SwimEx motion pools are preferred by homeowners, and professionals.
Check out the SwimEx paddlewheel in action in this video.
Unique fiberglass swim spa construction
SwimEx pools are constructed with a state-of-the-art fiberglass technique similar to high-performance luxury yachts and aircraft. Layers of fiberglass, resin, and gel coat enclose a balsa wood core. There is fiberglass on each side of a balsa wood core, creating an insulated "sandwich" that forms a virtually indestructible shell.
SwimEx pools have a small footprint. They pack a powerful punch in as little as 200 square feet of space and fit virtually anywhere. They range in size from 7′6″ to 11′5″ wide (2.29m to 3.47m) and 13′6″ to 22′ long (4.11m to 6.7m). Plunge pools come in five standard sizes or can be custom built up to 45′ long and 6′ deep.
SwimEx pools have a strong balsa wood core for superior shell strength, between layers of fiberglass and resin. As our pools are free-standing and self-supporting, this extra insulated layer helps to maintain temperatures efficiently.
Fiberglass pools have no liners. This means you never have to worry about tearing a vinyl liner or the cost of replacing one. The smooth surface doesn't need replacing and acts as a barrier against moisture absorption and algae growth. It cleans quickly, and is extremely easy to maintain.
What about jetted and propeller resistance pools?
"I feel like I am progressing using SwimEx. It's about a 30-45 min session. It is very comfortable, and I think the fact that it is warm and user friendly once you get in it takes a lot of the stress away."
"My SwimEx pool is one of the best investments we ever made. I love it, use it, it is easy to care for, it is efficient to operate. SwimEx is a first class company and respects their customers. The pool is wonderful. I don't think a lot of people realize how cost-friendly the pool actually is to have. And once you figure out where to put it, it is no harder to maintain than weeding your flower beds once a week."
"It's a perfectly sized pool that accommodates lap swimmers without taking up a lot of space. The water current offers adjustable settings that I can easily program from one session to the next. I can always find just the right setting to challenge residents of any ability."
"We selected SwimEx based on tradition and the success I know other athletic trainers and athletes have had with the pool. We looked at the competition, but all it had to offer was a treadmill. With SwimEx, I can get multiple depths, a variety of workstations – just a lot more."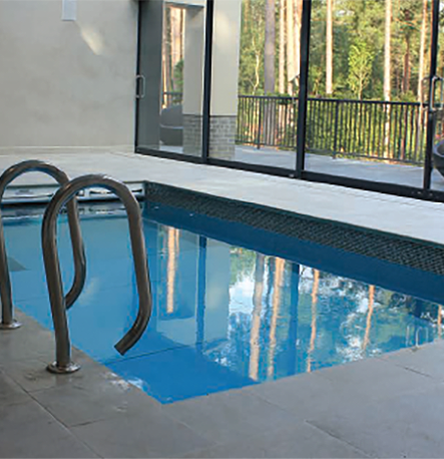 Practical tips for buying the best lap pool.