SwimEx is the industry leader in the aquatic exercise and rehabilitation industry, improving lives through the power of water.
Our mission is to provide superior hydrotherapy pools, swim spas, and plunge pools that exceed customer expectations through technologically advanced design and manufacturing.
The SwimEx team comprises experts in the design, manufacture, installation, and operation of an aquatic space for both the residential and commercial markets.
SwimEx pools are handcrafted and built factory-direct. The dedicated technicians who build our pools pay strict attention to detail and are experts in their craft. Leaders in their industry, many have been with the company for more than 20 years.
We are devoted to improving the quality of life through the power of water.
We are steadfast in our loyalty to the SwimEx legacy.
We are committed to testing the boundaries of aquatic function and design.
We are relentless in sustaining exceptional quality.
We are dedicated to exceeding customer expectations.
"We tried a number of swim-in-place pools before selecting SwimEx as the one that was right for us. We have been enjoying our SwimEx since late Feb 2019--swimming every day and having a great experience. Kudos to the folks at SwimEx, our architect, and our builder--a great team! We highly recommend the SwimEx pools."
"If you're looking for a therapy/fitness pool, SwimEx is the only way to go. It's a terrific product that performs exactly as described: the strength of the uniform current it produces can be adjusted to fit any range of fitness or therapeutic needs. Customer service is terrific and the pool itself requires very little maintenance."
"I have used SwimEx products for over twenty years and have been very satisfied with the quality of the product. The service support has been outstanding and always trying to make sure every issue is managed in a timely manner. I have used other systems before SwimEx and the service and support system sets them apart from all competitors."
"SwimEx is one of the best companies we've ever worked with. They are extremely professional, make a first-class pool, and have a great customer service/technical department. Special thanks to all the SwimEx team for making our dream come true."
"The quality of the customer service at SwimEx sealed the deal for me very early in the process. At every level and department within the company, I received same-day, thoughtful responses to my myriad of questions about SwimEx."
The SwimEx team is dedicated to making every step of purchasing and installing your customized swim spa as easy as possible.
Suzanne Vaughan has stood at the helm of adventure many times in her life. The daughter of SwimEx founder Everett Pearson, Suzanne has been part of the company in one way or another since its inception in 1986. Now, as the president and majority owner of SwimEx, she's steering this ship with tremendous success.
A Colby College graduate, Suzanne began her career as a loan officer at Fleet Bank, but was drawn back to the family business in 1989. Her love of creating superior products, satisfying customers, and working with the dedicated SwimEx team is as important to Suzanne as her ability to maximize productivity and profitability.
This mom of three is a devoted team player herself. Suzanne can be found during off-hours on the tennis court playing competitively. She also enjoys golfing, biking, and reading, and is an active council member of her church.
Sari Peloquin joined SwimEx in 2015 and works as an account executive for residential business. Sari has a master of science degree in kinesiology from the University of Toledo and a bachelor's degree in athletic training from Clarion University/California University of Pennsylvania. While at Clarion, she was a four-year member of the women's swimming team.
Prior to joining SwimEx, Sari was a physician extender at Advanced Orthopaedics in Richmond, VA. Her other experience includes working for Bon Secours Health System as the head athletic trainer at Glen Allen High School in Glen Allen, VA, and as graduate assistant athletic trainer for the University of Toledo at Maumee Valley Country Day School. As an athletic trainer, Sari worked with aquatic therapy and saw the benefits of SwimEx first hand while attending California University. The university has a SwimEx 600T DW, and the athletic trainers use the pool to condition and rehabilitate their athletes.
When she's not working at SwimEx, Sari enjoys spending time with her husband Steve, daughter Reese, and cavapoo Hank. She likes running, the beach, being outside, and teaching Reese how to swim.
Shelly Bean joined SwimEx as a commercial account executive in 2018, bringing over 20 years of experience in sales and account management. With her can-do attitude and customer-oriented approach, Shelly builds lasting client relationships that lead to positive outcomes.
Before SwimEx, Shelly worked as a senior packaging specialist for Taylor Box Company, developing new business opportunities and working with current customers to create custom packaging solutions. She has also worked extensively in the paper industry as a specification sales representative, where she helped guide clients to the right paper to meet their marketing goals.
Shelly earned a bachelor of arts degree in materials and logistics management from Michigan State University. She is a strong advocate of yoga and loves hiking, the beach, and cooking. On summer weekends you will likely find her "digging in the dirt" in her garden.
Starting in business development at SwimEx, Earl quickly moved to an account executive position. Earl has considerable experience in customer service, business development and sales. His exceptional attention to detail and organizational skills ensure that his customers are well cared for and will have all the information they need to make the best decisions possible on their pool.
Earl has a bachelor's degree in public and corporate communication from Westfield State University, and has worked in a variety of sales and recruitment roles, mainly in the IT field. He has a real knack for using technology to its fullest and has taught us a thing or two!
When he's not working at SwimEx, Earl enjoys exercising, seeing friends and family, and spending time exploring the outdoors with his fiancée Katie. They love camping, hiking, fishing, swimming, and hanging out at the beach. He is interested in cars/EVs, technology, sustainable energy, and travel. A lifelong athlete, Earl is excited to be working with the high-quality health and wellness pools made by the enthusiastic and talented team at SwimEx.
Kyle Bouchard has hit the ground running for SwimEx after joining in 2023 as a commercial account executive. He comes to us with 25+ years of valuable experience in sales and account management, mainly in the dental and medical device industries.
Kyle's main responsibilities are building and maintaining connections with customers remotely and in-person, understanding their needs, and educating them on the many industry-leading solutions SwimEx can offer. He is excited to be working with a truly unique and impactful product, and he enjoys the talented team environment that SwimEx has assembled.
In addition to his professional experience, Kyle has a B.S. in Business Administration from the University of Massachusetts. He enjoys spending time with his family, including being very hands-on in his teenage daughter's athletic endeavors. His passions include cooking, working out, and playing golf. He's made 2 holes-in-one, and he's chasing a third!
Kyle Rose joined the SwimEx team in 2023 as product engineer, and is responsible for designing custom pools, 2D/3D drafting, creating manufacturing shop drawings, and quoting projects. He enjoys working with architects and contractors and solving installation challenges.
Prior to starting with SwimEx, Kyle spent 28 years teaching technology, construction, AutoCAD, and STEM courses at the secondary and post-secondary levels. A highlight from his teaching career was Project Lead the Way, in which his students were responsible for creating orthotic braces and handheld therapy games for children with cerebral palsy.
Kyle also brings years of experience in the residential and commercial construction trade. He holds a B.S. in Technology Education and a M.S. in Education from Rhode Island College, as well as a Diploma in Architectural Design from Hall Institute.
When not at work, Kyle enjoys the outdoors, and going for walks with his wife and dog. He also likes working on various landscaping and home construction projects, riding his Harley-Davidson, and traveling in the U.S. and Mexico.
After spending time working with larger organizations, Kyle enjoys the smaller, family-like environment at SwimEx, and we enjoy his quick learning and great attention to detail!
Dante Pasquale joined the SwimEx team in the summer of 2023. He is a recent graduate of New England Technology where he earned his Bachelor's Degree in Mechanical Engineering. He specializes in CAD Drafting and Designing.
Prior to joining SwimEx Dante worked at Maverick Design Studio as a freelance shop technician where he was exposed to many aspects of the design process. Dante also has experience as a Manufacturing Support Engineer where he prepared customer files and documentation for the production team. He reviewed manufacturing procedures and completed research and system testing.
In his spare time, Dante enjoys the outdoors, biking, hiking, and fishing.
Technical service advisor
Michael Casey has been with SwimEx as a technical service advisor since 2018. With more than 20 years' experience in service management, he is highly skilled at technical problem solving. Mike brings a solution-oriented approach to understanding and addressing the needs of SwimEx's customers.
His previous positions include operations supervisor at FM Generator, installation/training coordinator at Horizon Bradco Inc., field service manager at Foley and Wallace Associates, and regional service manager at General Binding Corp.
Mike is a graduate of Bryant University and Aviation Electronics Technician School. He served as a member of the United States Coast Guard and then spent five years in the United States Coast Guard Reserves.
As project manager at SwimEx, Caroline oversees post-sale activities. She works closely with our SwimEx team, clients, architects and engineers to ensure successful and on-time delivery of our pools.
Caroline was born and raised in the Netherlands. She has worked for various international companies as an executive assistant/office manager while living in Europe. Since moving to the U.S., Caroline has coordinated several moves with her family while also working as a professional home stager and manager of a dental practice. Organization is in her DNA!
When Caroline isn't working at SwimEx, she enjoys walking her family's new puppy, home decoration, and renovation projects and gardening.  Caroline is an avid reader who also loves spending time with family and friends, biking, and golfing.
Strategic alliance coordinator
Sandra Marston's job title at SwimEx is strategic alliance coordinator, but she wears lots of hats and makes our lives easier! Among her many responsibilities are sales support, marketing/social media, administrative work, and light accounting.
Sandra joined SwimEx in 2022 after moving back to her home state of Rhode Island from Albany, NY, where she was the manager of a physical therapy practice for 18 years and also raised her children. Originally an RI native, Sandra got her B.A. from Gustavus Adolphus College in Minnesota. She then taught at a boarding school in MA for six years before moving to Albany. We're glad to have her back and working at SwimEx!
When she's not working, you can find Sandra playing tennis, painting, taking photographs, and sailing.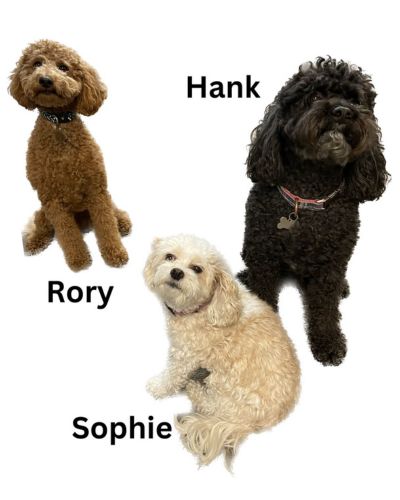 Rory is the youngest of the crew and a mini Golden Doodle. She works from home most days, but she bounds around trying to distract Sophie from napping on in-office days. She loves chasing rabbits and squirrels in the fenced-in backyard – without ever catching one!
Hank is a Cavapoo. He also mainly works from home, however when his car turns onto Airport Rd., we can almost hear his excitement from inside the factory! His favorite activity is sneaking into the breakroom and begging for food.
Sophie is our elder stateswoman and comes into the office every day. She tolerates us waking her up from naps, as long as we give her treats and rub her belly. However, she manages lunchtime rounds to say hello to everyone. She loves to ride in the car with the windows down!