A commercial hydrotherapy room is a dedicated space that should inspire athletic trainers and athletes, physical therapists and clients alike. It can include whirlpools, plunge pools, water current therapy pools, or full-sized swimming pools.
We recommend taking the time to plan out your goals and expected outcomes so you use your space efficiently, see a high return on investment and get successful outcomes for clients, athletes or patients.
What do you want to achieve with water therapy?
What will you use your commercial hydrotherapy room for? This will determine your choice of pool. A good therapy pool can accomplish the following:
Rehabilitation exercises
Recovery from injury
Sports performance
Full body workouts
Swimming
Running
Relaxation
Aquatic exercise classes
Swim coaching
Daily workouts for overall health and well-being
Pools with water current are ideal for any aquatic therapy space. They pack plenty of function into a small footprint. The water current creates a versatile pool where athletes can achieve a full body workout, swim, run, rehabilitate, and achieve overall fitness and conditioning without any additional pool equipment.
Pools come in many different shapes, sizes, interior layouts, and with a variety of in-pool equipment options. The number of users at any given time and the frequency of those users will help you determine the right resistance pool for your needs. In addition, you need to consider the size and strength of the different users.
A SwimEx current pool can be programmed for intensive workouts to challenge the strongest athlete or gentle enough for acute injury protocols that target specific muscles and joints.
Two water therapy pool interior layouts
The inside of a hydrotherapy pool should be built to satisfy your specific treatment objectives.
One of the most powerful water therapy pools on the market is the SwimEx 600 T. Popular with collegiate and professional sports teams for progressive strength training and rehabilitation programs, this pool offers extreme functionality within a compact aquatic machine. It has adjustable depths and features eight colored performance zones. There is a 99-speed water current, angled plyo pads, open/closed chain kinetic exercise benches, floor inserts and an angled platform for aquatic running.
If you're looking for a larger pool, the best option is the SwimEx 1000 T aquatic therapy pool. This state-of-the-art pool features a 99-speed water current on one side wide enough for side-by-side swimming, a still-water area, deep wells and stairs. Treat multiple people independently in the same session. The 1500 T model also comes with a zero-entry lift that doubles as a workstation.
Hydrotherapy room design ideas
SwimEx design engineers work with hospitals, veterinarians, rehabilitation facilities, senior living communities, physical therapists, coaches, athletic trainers, and architects through every step of the process, providing layout recommendations, CAD drawings, technical information and code adherence advice.
If possible, create spaces that can be seen from every area, including the sports medicine professional offices. It makes it easier to keep track of timing, who is using the space, and how sessions are progressing.
Glass walls are a perfect way to keep the facility open yet still create distinct areas. The Green Bay Packers facility (pictured) is an ideal example of this. Large glass panels separate the hydrotherapy room, rehab area and training room but they are all visible from anywhere.
Specific rehab areas should be designed with the end users in mind. It can be frustrating for athletes and athletic trainers if the hydrotherapy room is tucked away or hidden down a hallway.
The UConn Huskies have their hydrotherapy room next to the training room (pictured). The Providence College Friars ice hockey team put their hot and cold plunge pools next to their ice skating rink. The athletes and athletic trainers appreciate this easy-access design.
This may seem like a minor detail, but plan for adequate storage space that is efficient and close enough to access quickly and easily.
Athletic trainers work with multiple athletes at one time, so anything that helps save time and streamline the workflow is a big bonus. An easy-access cabinet area will make a huge difference in day-to-day operations. If you're planning a new hydrotherapy room, add space for pool toys, water shoes and accessories. And make sure there's plenty of ventilation to prevent wet items from getting moldy.
Many elite sports teams brand their pools with logos and team colors. It's easy to embed a logo into a fiberglass pool or choose from an array of pool tile colors to match any room design. The Cincinnati Reds incorporated their team colors into a custom pool, choosing red tiles to go with red and black work stations for specific aquatic exercises, including 45 degree plyometric pads, open and closed kinetic exercise benches, steps and an angled running pad.
Good athletic training room design makes the experience of training, conditioning, and rehabilitation positive and enjoyable for athletes and sports medicine professionals alike. Consider installing your therapy pool partially above ground. This creates the ideal height to work with your athletes; it's more comfortable for the trainer to talk and demonstrate exercises and protocols.
Sports medicine professionals know that an athlete's post workout recovery is just as important as the workouts themselves. Athletes who undergo rigorous training schedules need to perform at peak capacity at each and every session. Cold water hydrotherapy can help them do just that.
Hot or cold plunge pools are a great way to add hydrotherapy into small spaces to get big results.
SwimEx plunge pools come in four standard sizes, but they can also be custom built for specific team needs, stretching as long as 45′ or going as deep as 6′. The custom cold plunge at the University of Louisiana was built large enough to accommodate the entire football team (pictured). Find the plunge pool that fits your specific requirements in terms of the number of athletes, water depth, and interior layout. This will let you tailor your pool to the design and needs of your training room.
More information >>
Read more reviews of SwimEx professional pools by sports teams and physical therapists.
See our resources for architects.
Watch a selection of videos showing professional SwimEx pools being installed.
Get in touch with our professional designers for help with starting your project.
"Thanks Swimex for a great pool for hydrotherapy. The versatility our SwimEx gives us – with its different height floors and variable current – is excellent in the progression of injury rehabilitation. This has resulted in us having a very diverse caseload and physical therapy practice. We can now treat patients from severe injuries and post orthopaedic surgery to runners wanting to run more miles without injury."
"Our deep water well is particularly important to us. It allows for a totally non-weight bearing environment. Utilizing the pool's multiple water depths and various workstations, athletes of different sizes and heights and in all stages of injury recovery can run, swim or complete prescribed therapeutic exercise programs against the current."
"After researching aquatic therapy pools, the decision to select SwimEx was simple. Their pools require the least amount of maintenance in addition to offering the widest array of rehabilitation and conditioning options for our athletes. In addition, we were able to work with them on a custom appearance design allowing the pools to be a showpiece for our facility. We are very pleased with our purchase of SwimEx pools."
"The pools are awesome! It is great to be able to get 3-4 players in the pool at a time doing their rehab. The versatility is exactly what we were after when we started this project with SwimEx. We are so pleased with the design! The SwimEx team has been incredible to work with."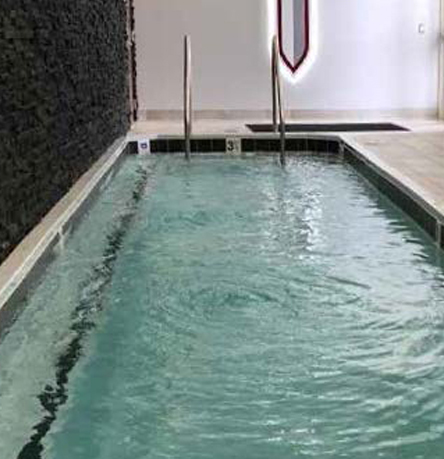 Hydrotherapy Room Design
for Athletes