Hydrotherapy Pools & Training Pools - Professional
High-performance professional pools for your facility
Hospitals, physical therapists, athletic trainers and veterinarians around the world choose SwimEx hydrotherapy pools and training pools. We offer superior water current technology, custom interiors, solid fiberglass construction, and outstanding service. Built in the USA and sold factory direct, SwimEx simply makes the most versatile, powerful aquatic therapy pools on the market.
The power of water in high-performance training:
Who do our hydrotherapy pools serve?
Sports medicine professionals worldwide choose SwimEx hydrotherapy pools to help athletes train harder and recover faster. The non-weight bearing environment and unique properties of water minimize joint pain and decrease inflammation. SwimEx hydrotherapy pools feature a powerful water current with 99 adjustable speeds for superior resistance. Accurately measure outcomes from one session to the next. Program how fast or slow you want to move through treatment. SwimEx hot and cold plunge pools require minimal maintenance, come standard with bottom drains, and can be custom built to suit specific objectives.
Hospitals and physical therapy clinics worldwide prefer SwimEx hydrotherapy pools for rehabilitation, health, and well-being. The pool-wide current gives practitioners the ability to consistently measure progress from one session to the next for accurate billing. With 99 adjustable speeds, they can tailor treatment plans based on the client's abilities, for specific outcomes. Common health conditions and many neurological conditions can be successfully treated. Achieve a positive ROI and high patient satisfaction with SwimEx hydrotherapy pools.
Military branches and veterans' homes around the nation use SwimEx hydrotherapy pools for training, research and rehabilitation. For example, the renovated
Rhode Island Veterans Home
has a large common area at its center, holding space for a gym, a dining hall and chapel, a medical suite, and a state-of-the-art aquatic therapy room.
From physical therapy to group exercise classes, hydrotherapy is effective, safe, and fun. Aquatic exercise for seniors can help manage common medical conditions, provide a safe environment to work on balance and core strength for fall prevention, and improve overall health and well-being. It is an excellent tool for recovery following injury or for post surgery rehabilitation. SwimEx hydrotherapy pools are ideal for therapy, exercise, and relaxation at
senior living facilities
.
Hydrotherapy pools with an adjustable current, such as the Triton professional and 400 T Series, are ideal for animal therapy and training.
Georgia Veterinary Rehabilitation Facility
owns a SwimEx model 480. This pool has a ramp that allows for easy entry and exit. The resistance created by the water current provides excellent rehab and animals return to full function sooner.
Our professional hydrotherapy pools & training pools
Entry-level price. Flat floor for multiple clients. Rear seats for resting or seated exercises. Treadmill and deep well options. Propeller current.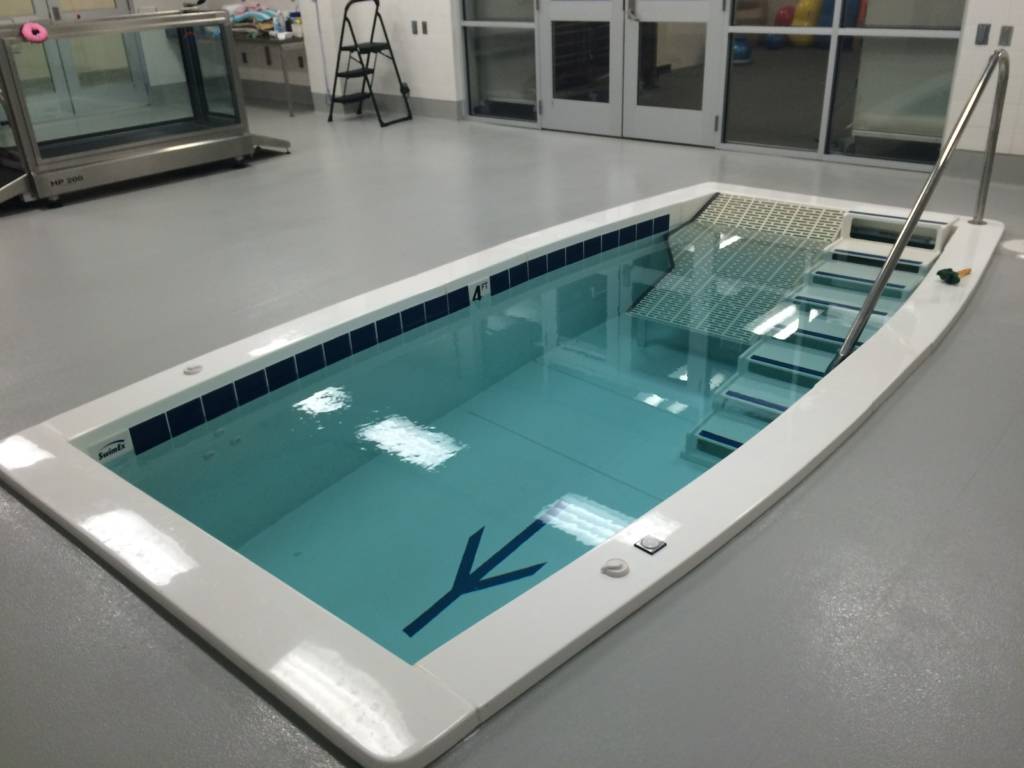 Flat floor for multiple clients. One-piece pool (400 OT), or delivered in sections (480 T). Paddlewheel current.
Stronger, deeper, paddlewheel water current. Side seats and various performance zones. Treadmill and deep well options.
The ultimate training and therapeutic pool for elite athletes. Strongest, deepest paddlewheel current. Multiple performance zones. Treadmill and deep well options.
Deepest flat floor. Add a second level for deep and shallow depths. Treadmill option. Paddlewheel current.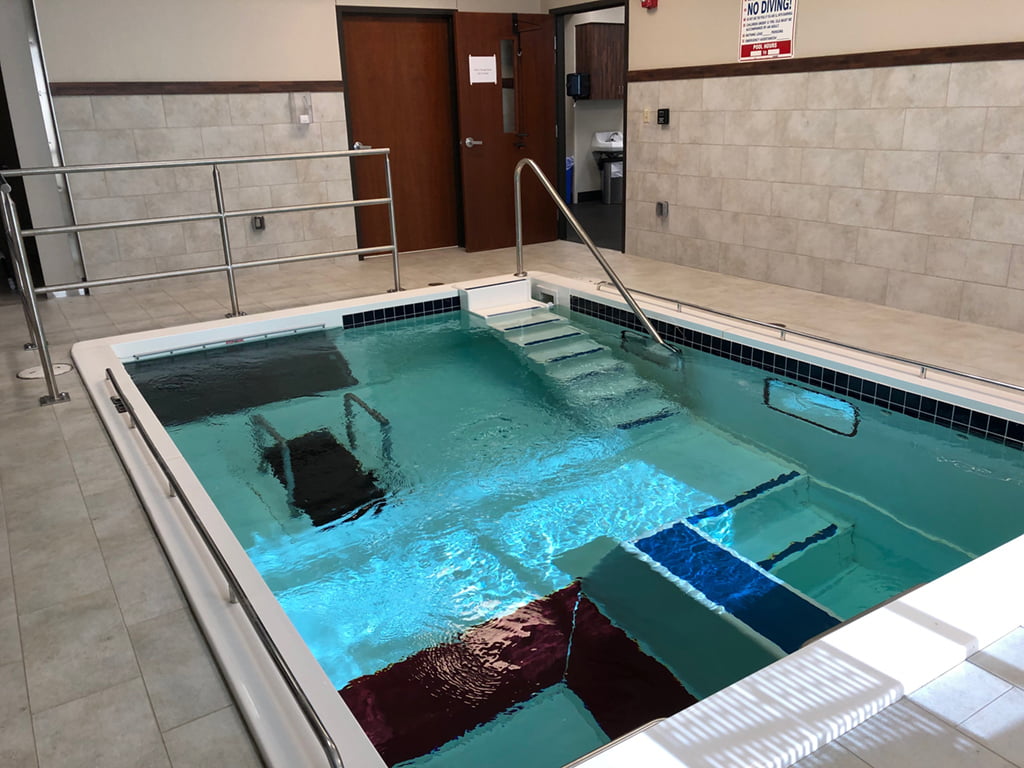 Our largest paddlewheel pools. Three depths. Large still-water area. Zero-entry lift option. Add treadmills and extension options.
Plunge pools for professional facilities
SwimEx plunge pools create the ultimate environment for recovery and revitalization. They come in four standard sizes (pre-assembled or in sections for areas with tight access) or can be custom ordered to fit specific treatment protocols. The modular design is ideal for locker rooms or athletic training facilities. Whether you have new construction or are remodeling a facility, SwimEx plunge pools will exceed your expectations.
Warm water works wonders on sore limbs and joints. It reduces pain, swelling, and facilitates muscle recovery. The heating system in our hot plunge pools brings water temperature up to 104°F (40°C). Cold plunge pools minimize aching muscles and reduce soreness following a workout. Our chiller system maintains water temperature at a therapeutic 50°F (10°C). The insulated fiberglass shell keeps temperatures consistent temperatures with minimal maintenance, and lower heating and cooling costs.
To achieve your specific treatment goals, we will work with you to design the ideal pool. We can build them up to 45′ in length or as deep as 6′. Vary length, depth, stair access, benches, jets, and more. The unique characteristics of fiberglass combined with years of building experience will provide you with superior built-to-order pools.
Commercial spas pools are ideal for relaxing and entertaining. Our insulated fiberglass pools offer superior temperature retention, are a breeze to clean, and last for years with little maintenance. SwimEx pools are the gold standard for aquatic luxury – from design to completion. Our collection includes standard or custom pools. Let us help you to create the ideal aquatic oasis.
What do SwimEx professional hydrotherapy pools cost?
Contact a SwimEx account executive for a personalized quote. (Financing is available through Americorp Financial.)
SwimEx pools are known for their durability – they are built to last. Read what our professional pool customers say about their SwimEx fitness and therapy pools.
"Using the SwimEx pool validates what we are able to do for patients. When we see success stories, we can pass it along and be able to empower and motivate others. It has been a learning experience for my staff to see people truly benefit from what they are doing and inspire others."
"Jet-resistance pools apply resistance, necessary for strengthening, only in small focused areas, easily evaded by an ingenious pup. Alternatively, the SwimEx current applies a uniform resistance to the entire leading edge of the body. We can alter the current intensity to your pet's ability and measure the current, guaranteeing progression of sessions and eventual results."
"SwimEx has played an extremely important role in my early recovery from a broken ankle! Before I could bear weight, I was able to build my muscles and stay in shape through the resistance from the underwater current. With the help of SwimEx and my wonderful physical therapist Preston Hall, I will be back playing volleyball more quickly than I thought possible!"