SwimEx Pool Features & Options
Design your SwimEx pool with features and options to enhance your experience. Built in our USA factory, SwimEx pools are made to order. Choose from a selection of standard features or create your own custom pool. Select the pool color, coping color, and tile combination. Design a specific interior layout, depth, length, seat configuration. Choose underwater lights, jet placement, and more. Design a pool or plunge pool that complements your home or meets specific training and treatment objectives.
* Standard features and options vary with each SwimEx pool model.
Available SwimEx features and options
The beauty of fiberglass is the ability to add color to a pool to complement any home or facility. Choose a polystone color for your pool coping, with either white or a solid gelcoat color for the inner surface of the pool.
See our polystone color selection.
Note that some colors are incompatible with SwimEx construction techniques. Talk to your representative before making a final polystone color choice.
Installed on both sides of the pool at the waterline, tiles add color and a unique design element to any pool or plunge tank.
The SwimEx EDGE is a programmable touchscreen monitor used to operate SwimEx pools.
This large, easy-to-read touchscreen is programmed for timed exercise routines, variable water current speeds, and operating the (optional) underwater treadmill. It features pre-set workouts for beginner, intermediate, and advanced levels, distance and sprint running, as well as interval workouts. It has built-in swimming routines or can be used to create custom workouts for specific training requirements.
The EDGE is ideal for measuring progress from one session to the next. Control your progress, track goals and accurately evaluate outcomes to better plan workouts and treatment options.
The SwimEx integrated belted treadmill is motorized, can achieve a top speed of 8.5mph and is adjustable in ⅒th mph increments. It features removable handrails for flexibility and a treadmill monitor display with speed setting and time elapsed. The monitor can be programmed to create interval workouts. Run against the current – the SwimEx water current makes an aquatic treadmill workout even more challenging and adds core strengthening. See integrated treadmill specs and video.
A drop-in, self-powered treadmill adds a new dimension to home exercise or rehabilitative protocols. Walk or run in a weight-free environment against the smooth resistance that only water can provide.
Fit into any size SwimEx pool or other pools
Modern, lightweight design allows for quick and easy insertion and removal
Self-propelled with progressive resistance.
Find out more about our drop-in pool treadmills.
Harness the instant neutralizing power of ultraviolet light to virtually eliminate all unhealthy microorganisms in your pool in a matter of seconds. Cut your chlorine usage in half while "zapping" unwelcome guests like Cryptosporidium, Giardia, E. coli and other harmful waterborne pathogens that can cause recreational water illnesses (RWIs).
Ozonator water purification system
Ozone is oxygen (02) with an extra oxygen atom attached (03). The third oxygen atom oxidizes and destroys microorganisms in your pool, including bacteria, viruses and molds. Ozone further breaks down and destroys contaminants such as cosmetics, body oil, perspiration and urine found in the water. Reverting back to oxygen when its work is done, ozone leaves no unpleasant byproducts in the water. Ozone is generated and dissolved into pool water automatically. It effectively reduces chemical usage by 60-90% while simultaneously removing microorganisms, organic contaminants and other impurities from the water.
Create easy access into the pool for patients in any condition. Recommended lifts are based on specific pool models and installation parameters. They include water powered, electric, and zero entry lifts. Lifts can be installed with above ground, in-ground and partially above ground pools.
SwimEx Zero Entry Lift: Integrated into the pool, the Zero Entry Lift allows for ease of pool entry with a platform that can be set to any height. Lift can also be used for exercises such as step ups.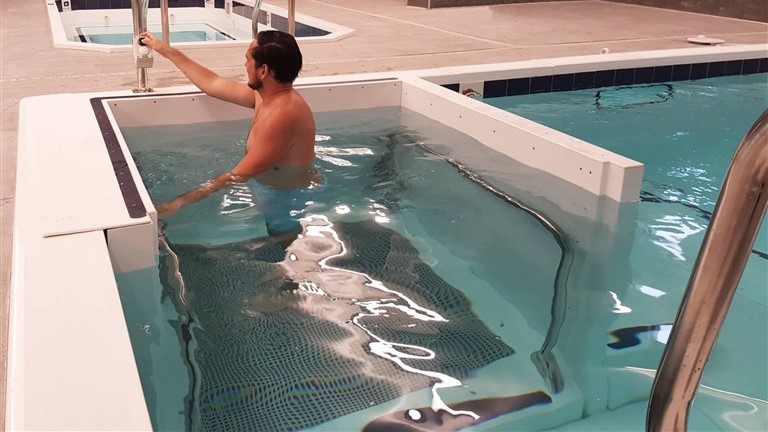 Water Powered Lift by Aquatic Access: Side-to-side transfers are easy with these lifts. The seats automatically turn forward into the pool, travel 44″ vertically, and can be stopped or reversed at any point.
Battery Powered Lift by Aqua Creek:
 These lifts are small, compact, non-rotational lifts with a variety of designs for different installations.  Portable lifts can be used to serve multiple pools in the same space.
Paddlewheel pools have a triangle of three jets in four locations, two on each side in the front of the pool. The Triton pool has 6 jets on the pool wall within each of the two back seats.
Jets are a separate system and come with an air control to vary the intensity.
A pool cover is a great way to help with temperature retention, keep your pool clean, and protect it from the elements. Benefits of a pool cover include:
Water conservation
Energy conservation
Less chemical consumption
Temperature retention
Less cleaning time
Keep dirt and debris out of pool
Act as a safety device for unplanned access.
A rigid vinyl pool cover made in four sections to custom fit to our pools. There are many colors available. See our
hard-top pool cover selection
. Just let us know which one is right for you!
This manual pool cover is convenient enough for daily use. There are no straps, no sandbags, and no anchors are required to hold it in place. The cover is an economical alternative to an automatic cover. This manual system moves along low-profile tracks to cover and uncover the pool, then stores on its own reel when not in use. Your pool can be covered in less than 60 seconds.
custom automatic pool cover
This SwimEx pool owner in Coronado, California chose an easy-to-use automatic pool cover for their new swim spa. The grooves on either side of the pool are for tracks for the cover. We don't supply these directly, though we can assist customers to find a dealer to install one.
Combining a lightweight, portable design with uncompromised suction and cleaning power, the Catfish is the ideal tool for any water application. Small enough to navigate the waters of spas and fountains, but strong enough to clean above ground and in ground pools, the Catfish can handle the toughest of messes with ease and efficiency. This size Catfish is ideal for SwimEx swim spa pools!
Featuring an 8″ vacuum head, the Catfish can be used to cover large areas of the pool, or the head can be removed, making the unit a powerful spot cleaner able to maneuver into corners and crevices smoothly. With the Catfish, you can clean the parts of your pool that need it quickly and efficiently, saving you time and energy.
The Catfish is powered by environmentally safe, rechargeable nickel metal hydride batteries, allowing cordless and hoseless operation for up to an hour of continuous use. The Catfish's Max Cone technology compacts gravel, dirt, leaves, and other types of debris into its easy-to-empty, reusable filter bag.