This indoor pool in Southern New England creates a perfect home spa oasis that this family can use all year long. It is an elegant, yet extremely functional pool that adds beauty to their home.
The indoor pool is a SwimEx 1000 S swim spa. It is the largest, most versatile resistance pool in the SwimEx residential pool line. This state-of-the-art aquatic swimming machine has four separate performance zones – a water current zone, a deep well for non weight-bearing exercises, steps, and a still water area. The water current on area provides plenty of space for side-by-side swimming. The still water creates the perfect counterpart for working out, leisure and relaxation. With a water surface spanning 10′ x 14′ (3m x 4.27m), there is ample room for exercise, entertaining, swimming, and fun.
To add more versatility this pool can be built with an integrated underwater treadmill. For an even larger pool, add 2′ (61cm) extensions, bringing this ultimate family pool up to 22′ (6.71m) in length.
~ Authored by Liz Lecomte
---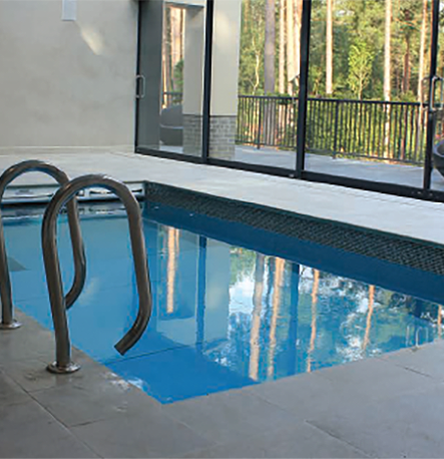 Practical tips for buying the best lap pool.