If you've been researching home pool options, you may be considering either an inground pool or an above ground pool. Inground pools are often the first choice for many homeowners, but installation costs can add up. Above ground pools can be a more affordable option, but integrating an above ground pool into your surroundings may be challenging if there are space limitations.
Fortunately, homeowners have a third option – a semi inground pool, which can be a great choice for either an indoor installation or an outdoor yard.
These 5 semi inground pool ideas highlight the versatility of this installation option.
1. An indoor pool sanctuary
Imagine enjoying a complete workout or a refreshing dip in this dramatic semi inground indoor pool space. Black marble walls and dramatic lighting give the space a spa-like feel. Steps offer easy access to the custom black handrails.
2. A stunning stone patio
Make a splash and turn a yard into a garden oasis with this semi above ground pool design featuring a stone step-up patio. The built in planter boxes add additional decorative elements for this outdoor space. Hanging plants and vines help transform this home garden into a place of beauty and serenity.
3. A beautiful retreat
Floor to ceiling tiles make this indoor swimming pool room a beautiful retreat for relaxation or full-body workouts. This semi inground 600 S performance zone pool features the smooth paddlewheel current and side channels for many versatile exercise options.
4. A simple raised deck
A semi inground 500 OS is a perfect fit for this small yard. The simple raised deck is a cost-effective solution for homeowners to enjoy the benefits of a pool without taking up too much space. A firepit completes the backyard space.
5. A home gym with pool
No gym excuses for these active homeowners! This complete home gym includes the powerful 500 OS for swimming, exercising, and post-workout relaxation. The colorful blue pool water adds contrast against the earth-toned tile.
A semi inground swim spa is a great choice for those looking for a low-maintenance solution that still offers the full functionality of a larger pool. Get ready to make a splash with a pool of your own! Our comprehensive swim spa guide can help you get started: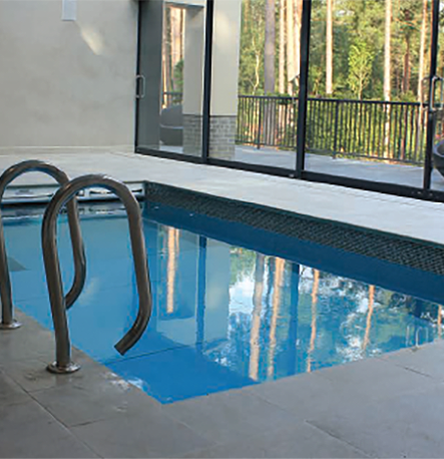 Practical tips for buying the best lap pool.