Above ground pools can make a backyard the ideal spot for exercise and entertainment. When considering the type of pool for your backyard, don't limit your imagination. The designs for above ground pools have come a long way over the years!
These above ground pool installations are both beautiful and functional additions to their backyards.
ROCKY HILLS
This pool installation is an example of combining function and design for stunning results. Located in Tourrettes-sur-Loup, France, the homeowners chose an above ground 500 OS pool with a surrounding deck perched along the edge of their backyard. What stunning views of this beautiful medieval village!
DECK ADDITION
These Atlanta, Georgia residents chose to build a two-storey addition in their wooded backyard for their above ground 600 OS. The gazebo-like roof design and white railings complement the home design. A ceiling fan keeps the space cool during the hot summer months. A hard pool cover helps to maintain the pool's temperature, especially during the winter season.
LAKE VIEW
This California couple can relax and enjoy views of the lake view in this above ground 480 S. For easy installation, the pool was delivered in four pieces. The built-in benches add to the warm and cozy feel of the space. Outdoor lighting and pool tile lights encourage evening swims.
SLOPE SOLUTION
A backyard with a steep slope can pose some design challenges. A deck addition with an above ground Triton solved this homeowner's backyard challenges. A white pavilion covers the pool area which is surrounded by weathered gray decking. The Triton swim spa pool has ample room for exercise, swimming, and relaxation.
If you're looking at above ground pools for your backyard, consider a SwimEx. SwimEx pools are built with a state-of-the-art fiberglass technique and a strong balsa wood core for superior strength. Many homeowners have enjoyed their SwimEx pools for over 30 years.
Enhance your backyard today with a SwimEx pool. Our free guide can get you started.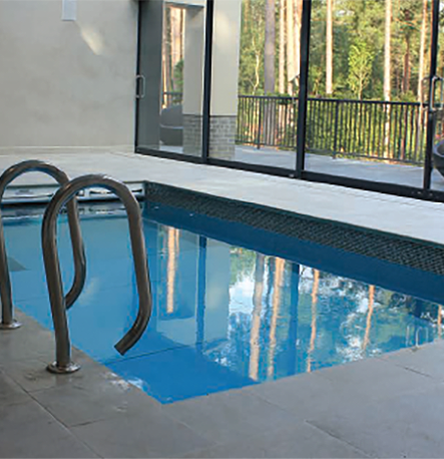 Practical tips for buying the best lap pool.