A beautiful swim spa deck design can create a luxurious spot the whole family can enjoy. From a raised deck in a yard or on a porch, to a multi-level extension of a home, the right deck design can make all the difference in the look and feel of a swim spa.
Any project should factor in these important considerations – space, materials, and lighting. Take your outdoor space to the next level with these swim spa deck design ideas.
1. Space
The small footprint of a SwimEx swim spa makes it ideal for almost any type of deck installation. The one piece design of this Triton adds beauty and functionality to this small deck, creating a cozy spot to relax and entertain. Although small in size, this flat-bottom pool has ample room for exercise, swimming, and relaxation. The raised deck installation allows for easy service access.
This multi-level deck design nestled among the trees feels like a tropical paradise for these Florida homeowners. A beautiful wood deck surrounds this 600 S, complete with railings and plenty of space for seating. These homeowners can make the most of the warm weather and create lasting memories in their new outdoor oasis!
If your backyard space is larger, consider a patio and deck combination for your swim spa. These homeowners have plenty of space to relax and entertain with a 600 S installed partially above ground. These homeowners can enjoy swimming at night with two outdoor post lights that flank the deck. This backyard feels like a tranquil retreat with stunning water views.
A bigger backyard can also provide the opportunity to make your swim spa deck design the centerpiece of the area – just what these Maryland homeowners did! This custom deck with multiple levels was built for an extra-large plunge pool. Colorful seating and a pergola add style to the space.
2. Materials
Choosing the right deck materials and right pool cover can make all the difference when creating an inviting and luxurious backyard space, taking the deck design for your swim spa to the next level. This gorgeous gray wood deck and telescoping pool enclosure adds grandeur to the backyard. The versatile pool cover not only provides the convenience of being able to open and close the pool at will, but also offers protection against the elements.
Concerned about maintaining a wood deck? A concrete deck is a great low-maintenance option for your swim spa. An affordable option for homeowners, a concrete deck has a host of benefits including resistance to weather, insects, and ultraviolet rays. This concrete pool deck design is perfectly suited for the rocky coast of this home in Hong Kong, complete with a 500 OS. Enjoy the views both day and night!
3. Lighting
Dramatic lighting can be a major factor in creating a stunning, relaxing atmosphere around your swim spa, and can be the perfect accompaniment to the already beautiful design of the deck that surrounds the pool. In addition to the aesthetic value of lighting, it also serves a practical purpose. Strategically placed lights can provide more visibility for greater safety in and around the pool. Deck stair lighting, deck post lights, and deck railing lights are popular choices. Depending on your deck installation, recessed lighting may also be an option.
In addition to exterior lights, two underwater lights can be incorporated into your SwimEx swim spa. Choose from white, aqua blue, violet, ocean blue, gold, green, red or a rotating light show.
Whether you are looking for an outdoor spot suited for lounging in the sun or hosting social gatherings, creating the perfect swim spa deck design can make all the difference. Our comprehensive swim spa guide can help you get started: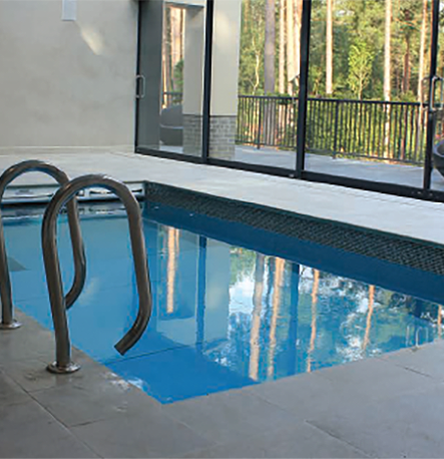 Practical tips for buying the best lap pool.