Monica, a healthcare professional, has always made exercise a part of her routine. "Both my husband and I like to work out a lot, but we were feeling more post-workout aches and pains than we used to," Monica said. Her husband, also a doctor, sees firsthand the impact of aging on his patients. "We both wanted an exercise option that would be gentle on our joints and provide a full-body workout," he said.
For this active family of five, a pool seemed like a good solution. "We have a daughter who has idiopathic adolescent scoliosis. It can be hard to find an aerobic activity for her. After researching pools, I was convinced that a hydrotherapy pool would be perfect for our family," Monica said.
"I researched different hydrotherapy pools, including Endless and Michael Phelps," Monica said. "We wanted quality, and not something that would need to be replaced in 10 years. After speaking with different pool reps, I found the SwimEx team to be the most helpful, responsive, and detail-oriented. I felt confident choosing SwimEx."
Monica chose a SwimEx 1000 S so they could enjoy the pool with family and friends. Then, the planning began. "We decided to remove the deck and install the pool there," Monica said. "We hardly ever used our deck, and I liked the easy access and visibility from the kitchen. We hired a general contractor, and the work began."
Indoor pool room construction
Indoor pool room surrounded by glass
With only two months of summer in their Ohio suburb, Monica opted for an indoor pool room surrounded by glass. "I found a modular unit from national retailer Florian Greenhouses that could be installed quickly," Monica said. "We purchased it through a local company, Arcadia Glasshouses, who also handled the installation. We also invested in a high-performance Desert Aire pool dehumidification system for the room, and added an automatic pool cover for convenience."
"The room is beautiful. It's an extension of our home," Monica said. "It's a great place to relax, work out, read, and just enjoy the space. I herniated a disc in my neck two weeks before the pool opening, and the pool was so key in my speedy recovery back to normal. And my husband had a frozen shoulder. The pool was instrumental in his recovery. He has noticeably gained so much strength and muscle after only three months of using the pool. It helped so much."
Night views of indoor pool
"Having a pool with an adjustable current is so beneficial," Monica said. "I run on the treadmill in the pool with the current speed at 70, and you can really feel the resistance of the water. The kids and neighbors love the current, too. They have fun setting the speed to 99 and just flying down the pool."
"Our youngest learned how to swim in the new pool," Monica said. "It's an investment, but with SwimEx, you get a commercial quality pool. The whole family uses it every day. We couldn't be happier."
~ Authored by Kristine Chochrek
---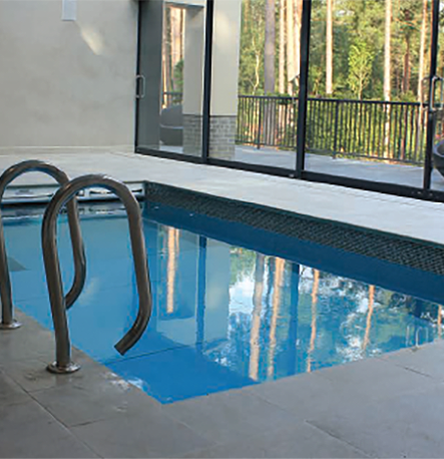 Practical tips for buying the best lap pool.