The Denver Broncos are three-time Super Bowl Champions (1997, 1998, 2015). In 2018, the Broncos spent $9.5 million upgrading their UCHealth Training Center in Dove Valley. This included a 2500-square-foot training room expansion with a new hydrotherapy room, featuring a SwimEx 1500 T zero-entry pool, and hot and cold plunge pools (pictured below).
The Broncos' pools were custom-ordered by the team's legendary director of sports medicine, Steve "Greek" Antonopulos. All of the pools can accommodate multiple players for successful training and therapy outcomes.
Genesis of the 1500 T therapy pool
The SwimEx 1500 T was introduced in spring 2018. "[Steve] charged us with designing a zero-entry lift pool that provides easy-access for injured players but also doubles as a multi-depth treatment zone," said SwimEx engineer Alex Powers who designed the pool along with head engineer Mark Fyrer and field service technician Jim Gagnon. "This pool was something we had been thinking about for a few years. We were thrilled when Steve's request provided us with the incentive to design and manufacture it."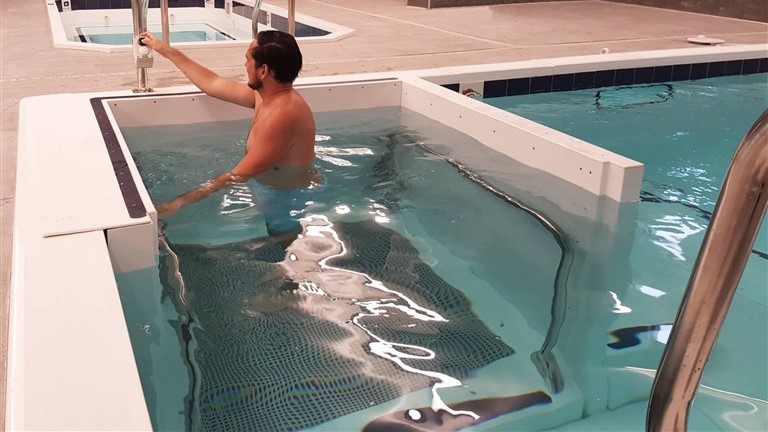 Built with durable fiberglass construction, the 1500 T features the new zero-entry lift that doubles as a treatment zone, three different water depths, deep wells, a still water area, and a 99-speed water current zone.
Positioned in one corner of the pool, the 5′ x 5′ zero-entry lift stops at any water level (between 0″ and 48″) for multi-depth treatments and exercises. The 99-speed water current (a SwimeEx exclusive) remains consistent from one session to the next, making it easy to measure progress and outcomes. The SwimEx 1500 T pool can also be customized. The pool's interior configurations can be changed. The stairs can be varied, and integrated treadmills, box steps, and benches added.
"The pool is awesome!" said Antonopulos. "It is great to be able to get 3-4 players in the pool at a time doing their rehab. The versatility is exactly what we were after when we started this project with SwimEx. We are so pleased with the design. The SwimEx team has been incredible to work with."
---
The two SwimEx custom plunge pools are a 16' hot plunge and 28' cold plunge (pictured). Warm water reduces pain, swelling, and facilitates muscle recovery. Cold plunge pools minimize lactic acid build-up to reduce soreness post-practice.
"Our goal is to make sure our clients get the exact pool they need to achieve their objectives," says Suzanne Vaughan, SwimEx president. "Ultimately we work from design through post-construction to exceed our client's expectations so they can experience superior hydrotherapy results. Our experienced team and our ability to customize our pools helps make that happen. The zero-entry lift workstation is yet another feature that sets us apart from our competition."
~ Authored by Liz Lecomte
---
Since building the first 1500 T for the Broncos, this pool has been in big demand. Are you ready to create the ultimate hydrotherapy room? Download this free guide with tips and design inspiration.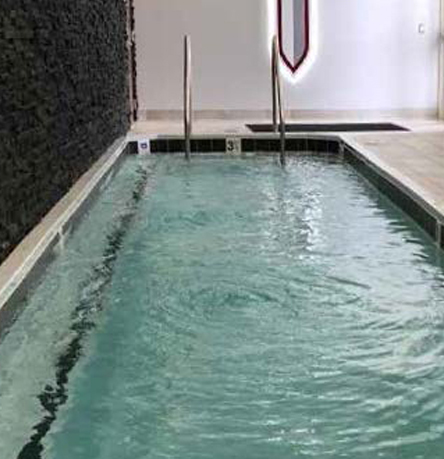 Hydrotherapy Room Design
for Athletes