A stunning view and a new home pool creates an exercise oasis for these South Georgia homeowners. Their pool is a SwimEx model 500 S. It has a water depth of 50″ and holds 2600 gallons of water.
This swim spa home pool installation is snuggled into a screened-in porch. The couple designed the space to make the most of solar energy. The sun warms the water and the pool cover helps keep the temperature at a steady 86°F, making this swim spa installation both practical and inviting.
The porch is constructed with Trex composite decking for low maintenance. The ceiling is constructed out of corrugated metal. The pool was installed partially above ground for easy access in and out of the water, as well as to add seating around the perimeter. Two of the walls are fully screened, and the stunning view looks out over the couple's pond.
These active 65 year-old SwimEx swim spa owners have no intention of slowing down. They use their new pool regularly for fitness, conditioning and relaxation.
"We did a lot of research on the many different resistance pools on the market today. We were sold on Swimex after we discovered that their quality of construction and water current far exceeded other companies," they said. "The fiberglass shell and paddle wheel water flow were the right choice for us, and we've been enjoying our pool since the day it was installed."
They couldn't be happier. As the sun rises over the pool each morning, they can exercise and relax in their own home pool. According to this happy owner, exercising in the swim spa at dawn is "one of my favorite times to use the pool".
~ Authored by Liz Lecomte
---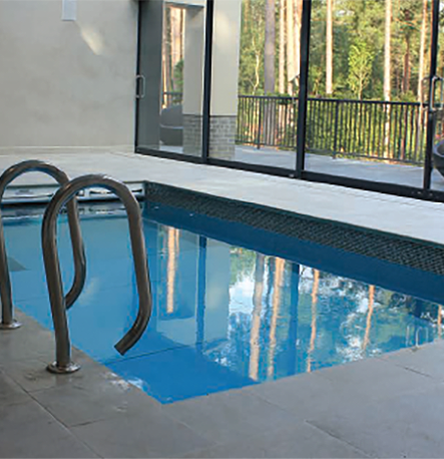 Practical tips for buying the best lap pool.