SwimEx owners Seth and Valerie Yellin from Atlanta are proud owners of their second SwimEx Triton swim spa pool. The couple bought their first Triton pool in 2015. When they sold their house in 2017, the pool was a selling point and the new owners wanted to keep it. So, the Yellins bought another SwimEx for their new home.
Why they chose the Triton swim spa pool
"After using the Triton for 2 years we decided to move and the most important decision in our new home was where to put my new swim spa. I took the opportunity to swim in a variety of swim spas before deciding that the Triton was once again my top choice," said Seth Yellin, MD, FACS, the founder and director of the Marietta Facial Plastic Surgery, Laser & Aesthetics Center.
According to the Yellins, they felt cramped when they swam in other lap pools. When Valerie swam breaststroke, her legs hit the sides of other well-known swim spa pools. Seth felt the Triton current was stronger, had a much smoother flow, and was roomier. They realized they couldn't replicate the SwimEx experience. In the end, nothing came close to SwimEx quality and the SwimEx water current.
Perfect pool for their home design
Once the couple decided to buy another SwimEx Triton, the next challenge was to make sure the pool blended in with their new home's architectural style. They kept the pool interior very simple and focused on the pool surround. The picture shows the addition for the pool below the second floor deck to the right of the house.
This is an above ground SwimEx pool installation. Once the homeowners built a flat level slab for the pool to sit on, the pool was put in place, and they built the deck around it.
Here is the lattice work surround and the pool under the decking.
The homeowners chose an automatic pool cover for safety, insulation, and to keep it clean. This easy-to-operate cover opens and closes with a switch.
They built a chemical closet near the pool for easy access.
For exercise efficiency, they chose the SwimEx EDGE monitor to program personalized workouts and accurately time swim sessions.
Daily swimming and exercise – at home
"I have been committed to fitness since I was a teenager and have been swimming on and off for many years. However, as a facial plastic surgeon who spends hours everyday hunched over while operating, my back was beginning to inform me that I was getting older. It became apparent that I needed to swim daily to feel my best. After considering many options, I selected the SwimEx Triton pool as my solution to maintaining strength and flexibility. When I finish with my swimming work-out, my back feels wonderful. I still mix it up with other weight bearing exercises, but swimming year-round has been my elixir of youth," said Seth.
"I will close by saying what I tell my patients. Do some form of physical activity daily. If you have 10 minutes to spare, make it count. If you have an hour, get wet in your Triton pool. You will live a healthier life," said Seth.
~ Authored by Lucas Saunders
---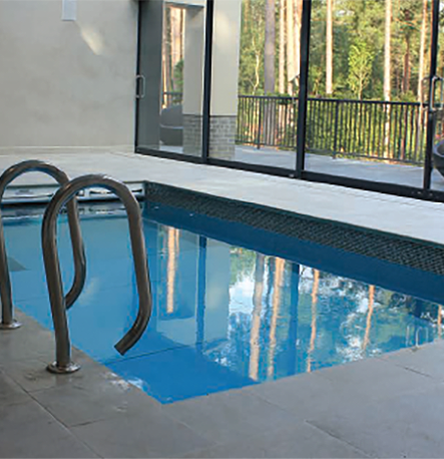 Practical tips for buying the best lap pool.