When SwimEx customer Linda purchased her first SwimEx pool back in 2002, she likely couldn't have imagined that a second would be in her future twenty years later. But when she sold her house in 2020 and broke ground on a new home only 600 feet away from her first home, a new SwimEx pool was a priority.
We recently spoke to Linda about her old pool, her new pool, and her beautiful living wall from LiveWall.
First love swimming
"I've always loved swimming," Linda said. "So we decided to build a beautiful outdoor space with a SwimEx pool." The deck and pool were something the entire family could enjoy.
"My nephew was 12 years old when the first pool was installed in 2002," Linda said. "He was the first one in the pool, and he didn't come out until 3 hours later. He just loved it."
A move down the hill
In 2020, Linda decided to sell her house and build a new home on existing land just 600 feet down the hill from her current house. It was a crazy time, but the house sold quickly, and they broke ground on the new home.
"I knew I wanted another pool, but I decided this time I wanted to have it right next to our bedroom," Linda said. So the new home plans included a separate swimming pool room, complete with a living wall. She chose the same pool model, the SwimEx 500 OS, but the newer model includes an automatic fill feature.
"And 20 years later, my now 32-year-old nephew once again was the first one to swim in the pool," Linda said. Linda added the LiveWall feature to the new swimming pool room which helps to bring the outside inside her home.
Pool neighbors
Linda keeps in touch with her new neighbors up the hill. "I know the new homeowners love the pool," Linda said. "I've always taken good care of it. The fiberglass makes it really easy, and there are no liners to replace. For an outdoor pool, I was always able to keep the water temperature nice and warm well into the fall, usually between 78-82 degrees."
The Swiss Army knife of pools
Linda uses her new pool four to five days a week for swimming, pool exercises, and aerobic exercises. "I call it the Swiss Army knife of pools," Linda said. "There's just so much you can do in the pool that goes beyond swimming."
~ Authored by Kristine Chochrek
---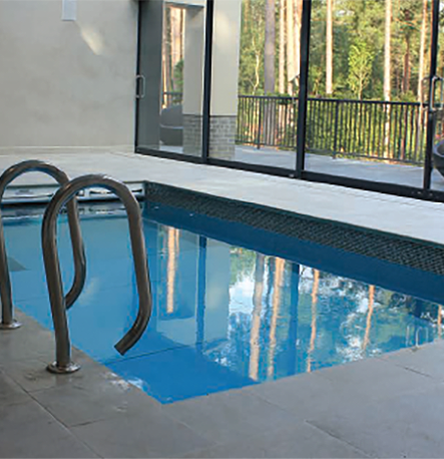 Practical tips for buying the best lap pool.