It was 1987 when Aneena, officially our fifth customer, received delivery of her SwimEx 400 OS. We had the opportunity to chat with Aneena, who shared how she is still enjoying the pool and swimming at home.
Baby on the way
Growing up in Florida, Aneena swam almost every day. After moving north, she kept up with her swim routine at a public pool. When she and her husband learned they were expecting a baby, she worried about finding time for her daily swim. "I knew that it would be hard to handle a job and a baby while still finding time to go swimming," Aneena said. Having a pool at home would mean she could keep her daily swim routine.
Aneena saw an ad for SwimEx pools in Sports Illustrated and quickly made plans to fly to Boston and try it out. "I remember it was a cold day, and the pool was 90 degrees." She opted for the SwimEx 400 OS and started planning a new solarium for the pool.
Swimming at home is my life
For Aneena, swimming at home in her SwimEx pool is so much more than just exercise. "For me, swimming is my meditation, it's my sanity," Aneena said. "I would feel lost if I couldn't swim."
She typically swims a half hour a day, alternating between the crawl and using the kickboard. She started using the kickboard after knee surgery which helps alleviate knee pain. "There really is nothing like the paddlewheel current," Aneena said. "You get a much better workout in the SwimEx pool compared to an Olympic-sized pool, or even the ocean."
Aneena likes to workout in cooler water temps, but acknowledges that it does make the initial dip in the pool a bit harder.
Aneena leaves the pool cover on and finds the pool to be very low maintenance. "It's easy to monitor the chemicals, which aren't as bad as the chemicals in public pools," Aneena said. "When I'm out of town and I go for a swim in a public pool, it takes me days to get the chlorine out of my hair."
A great investment over 30 years later
Aneena's been using the pool now for over 30 years. "Having the pool has paid off both physically and mentally," she said.
Aneena has since moved to a new home, but she still uses her old house as her office and for swimming in her 400 OS. "It's the most important possession in my life," she said.
~ Authored by Kristine Chochrek
---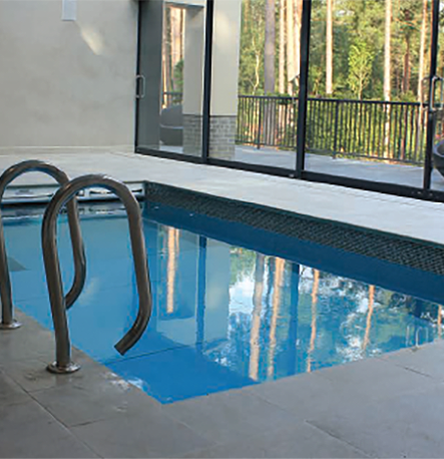 Practical tips for buying the best lap pool.