We had the opportunity to speak with Elliott, a customer who purchased his 400 OS SwimEx motion pool back in 2005, when he was renovating his New Hampshire townhome.
Warm mornings and cool afternoons
Elliott's wife always loved swimming, but after a negative experience swimming in a public pool, the couple decided to purchase their own pool. They did a lot of research and even had the opportunity to test out a SwimEx motion pool. "I put a lot of time into researching all the pools that were available, and there is honestly no competition to the SwimEx," Elliott said.
Elliott still remembers the day the car hauler arrived with a mysterious item all wrapped in white. "I live right downtown in a small New England town, so it was quite the sight to see," he said. "I knew it was the pool delivery, but I told our curious neighbors I didn't know what it was." The couple had added an addition to their townhome, and they left the roof beams off to accommodate the installation of the new SwimEx motion pool. "I purchased the single piece pool, and I was able to watch them lift the pool into place with a crane," Elliott said.
Since then, his wife uses the pool every morning, and Elliott uses it most afternoons as his schedule permits. "My wife prefers the temperature much hotter than I do, closer to 88 or 89, so I run the temperature warmer in the morning, and by the afternoon, it's cooled down," Elliott said.
The couple enjoys their SwimEx motion pool nine months out of the year, emptying it for the three months they spend at their lake house.
Easy maintenance
"Like most equipment, if you take care of it, it will take care of you," Elliott said. "The quality and craftsmanship of the pool are exceptional." Like his extensive car collection, he handles the maintenance himself, establishing a simple daily, weekly, and annual maintenance schedule. He has an Ozonator, which is now a standard feature for all SwimEx paddlewheel pools. Ozone destroys microorganisms in the pool, including bacteria, viruses, and mold. It's environmentally friendly, easy to install, simple to maintain, and reduces the amount of chlorine or bromine needed.
"I get a new filter every year, and once a week I use test strips to check the water quality," Elliott said. All SwimEx owners receive a comprehensive manual, and Elliott confirms it has provided him with everything he needs to know. "There have been no surprises, really, it's the best piece of equipment I own. The two or three times I required Swimex service in the past fifteen years, it was readily available."
Keep swimming
"I plan to live until I'm 120", Elliott joked. "No doubt my SwimEx will last for 50 years."
~ Authored by Kristine Chochrek
---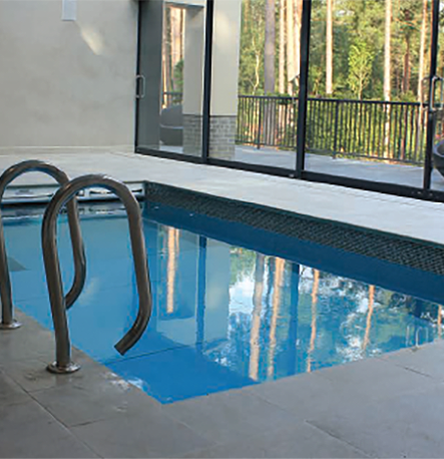 Practical tips for buying the best lap pool.