When Gale started the process of building a new home in Northern California, having a swimming pool was high on her wish list. "I grew up with a pool, and I missed having one at home," Gale said. "I knew it would be an investment, and I didn't want a pool with a vinyl liner."
After researching pools, she came across SwimEx's fiberglass pools. She was impressed with the high quality and the custom options. "I wanted to make sure the pool could be integrated into the design of the home," she said. "It was the water flow that sold me; it's nothing like swimming in a jetted pool."
Underwater skateboarding
Her SwimEx 400 OS was installed in 2015, and since then, the whole family has been enjoying the heated pool, including Gale's grandkids, who often spending hours swimming and having fun. "The kids will turn on the pool current, stand on their boards, and it looks like they are skateboarding underwater," Gale said.
Heated pool with smooth current
"I like to keep the pool warm all year long, usually at a temperature of 88 degrees," Gale said. "For me, it takes away the shock of getting in the water." Gale is a fan of swimming the breaststroke. She loves her waterproof headphones and enjoys listening to podcasts or audiobooks while swimming. "Swimming with the SwimEx paddlewheel current is a more efficient workout because you don't have to slow down to turn around. And the smooth current has a very natural feel to it."
"When I want to take a break from swimming, I'll do pull-ups, leg lifts, and flutter kicks to work my core," Gale said.
Watch Gale swim and exercise without getting her hair wet!
Pool helps after rotator cuff surgery
Gale also used the pool after her rotator cuff surgery. "I started to move my shoulder a bit in the water, and it helped," Gale said. "As it started feeling better, I would swim for a few minutes a day, gradually increasing my time in the pool. It felt great. My physical therapist was pleased with my fast recovery. I know the pool helped."
Year-round pool fun
"I couldn't live without my SwimEx," Gale said. Even though the temperature can get as low as 30 degrees outside, Gale enjoys the heated pool all year long. "I run the motor for just an hour a day. And there aren't any long-term maintenance costs." The 400 OS uses an ozone water purification system. "I love not needing a lot of chlorine. There are so few chemicals, I don't even feel like I have to rinse off after using the pool.
"It really is great fun for the family."
~ Authored by Kristine Chochrek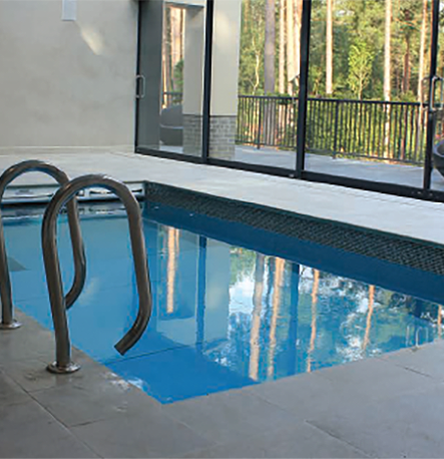 Practical tips for buying the best lap pool.