One of the most historical franchises in the National Football League, Green Bay Packers are four-time Super Bowl Champions (1966, 1967, 1996, 2010).
The Packers' Lambeau Field is arguably one of the most distinguished stadiums in the country. Their facility features a state-of-the-art athletic training room with SwimEx hydrotherapy pools and custom plunge pools.
"SwimEx sets the standard in aquatic treatment and rehabilitation, which is why they are the only choice for us," said Pepper Burruss, the team's director of sports medicine administration, who retired in 2019 after 26 years with the Packers. "Their attention to detail extends from state building codes to 'brick and mortar' and that has always impressed me."
During the design and planning of Green Bay's expanded training room, SwimEx worked closely with Burruss to help him find hydrotherapy products that perfectly suited the team's therapy needs. With our extensive knowledge of hydrotherapy installations, the SwimEx team helped ensure that the final room design was completely compliant with Wisconsin State Health codes.
The new athletic training room includes two custom hot plunge tanks (12′ and 18′) (3.66m and 5.49m) and a 24′6″ (7.47m) custom cold plunge tank.
For the training pool, Burruss chose to use the SwimEx that he custom designed 15 years previously. It is a SwimEx 600 T with a 24″ (61cm) deep well (pictured above). It took two SwimEx technicians 10 days on site to refurbish the pool. They refinished the colored workstations and reapplied the gel coat finish.
"SwimEx earned our business in 1998," said Burruss. "Now, five major renovations later, they have never once disappointed us."
~ Authored by Liz Lecomte
---
There are many questions to ask before you begin planning and designing your hydrotherapy room. Download our guide to get your project started today.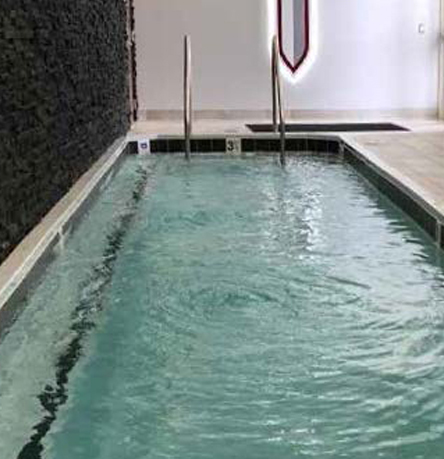 Hydrotherapy Room Design
for Athletes