Here's a showcase of some NFL champions that use SwimEx therapy pools for aquatic exercise and rehabilitation.
Baltimore Ravens
The Ravens are two-time Super Bowl Champions (2000, 2012). This tough and competitive team has a SwimEx 600 T DW hydrotherapy pool so they can harness water power in a superior way to rehabilitate, recover, train and condition their athletes.
Warm water pools with a water current like the SwimEx 600 T Series create exceptional resistance for additional support, increased intensity, and maximum versatility. These therapy pools can vary in depth and offer different performance zones for walking, running, swimming, full body exercises, and deep water treatments.
Atlanta Falcons
The Atlanta Falcons have had great success. In 2016 they won the NFC South division, and the NFC title. They represented the NFC in the Super Bowl but fell short. In 2017 the Falcons made it back to the playoffs. The Falcons use a SwimEx 600 T DW therapy and training pool.
The 600 T DW is a powerful aquatic therapy pool with a 99-speed water current and the advantage of a deep-water running well that adds either 12" (30.5cm) or 24" (61cm) to the pool depth. The deep-water well is designed for total non-weight bearing rehabilitation and conditioning applications for more aggressive therapy. This aquatic machine features eight distinct, easy-to-identify colored performance zones, eight tethering ports to lock in a patient during non-weight bearing protocols, and a running platform. For additional versatility, a 4′ extension can be added to include an integrated underwater treadmill.
Indianapolis Colts
The Colts are two-time Super Bowl Champions (1970, 2006). This fiercely competitive team uses a SwimEx 600 T DW pool for their hydrotherapy. This ultimate training tool is a win-win for the athletes and the team.
New England Patriots
Arguably the most successful NFL franchise ever, they are five-time Super Bowl Champions (2001, 2003, 2004, 2014, 2016). They have won the AFC East Division 15 times since 2001, and have gone to the AFC Championship 12 times since 2001.
In addition to their 600 T therapy pool, the most powerful aquatic therapy machine in the SwimEx line-up, the Patriots have a custom plunge pool for their training facility with an extra-long side seat to accommodate more players (pictured).
~ Authored by Lucas Saunders
---
If you're looking to add hydrotherapy to your training facility or want to upgrade your aquatic therapy equipment, download our tips on getting the ideal room for your team.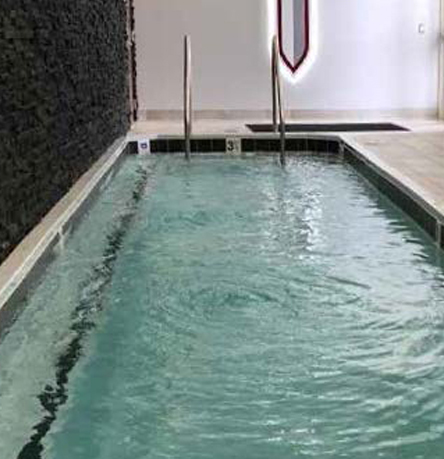 Hydrotherapy Room Design
for Athletes