Mountaintop Physical Therapy & Wellness Center in Park City, Utah has a hydrotherapy room that is a successful and busy part of the clinic. This case study demonstrates how aquatic therapy effectively managed the treatment of a high school volleyball player who suffered from a broken ankle.
Physical therapy diagnosis
A top-ranked high school volleyball player named Kristi broke her ankle while surfing.
"Kristi suffered a severe break which required open reduction internal fixation, which means they had to surgically fixate the break with hardware," explained MountainTop owner Preston Hall. "She was non-weight bearing for six weeks."
Hydrotherapy treatment for the broken ankle
Preston set up a rehabilitation regimen for Kristi using the center's SwimEx 600 T. Initially, he had Kristi work on strength and range of motion exercises in a non-weight-bearing fashion utilizing the SwimEx's powerful paddlewheel current and deep well. Then, as Kristi's ability to bear weight improved, Preston moved her onto the underwater treadmill and the pool's performance zones for exercises focusing on weight bearing, dynamic movement and explosiveness.
"The SwimEx allowed us to be a lot more progressive in Kristi's treatment, which meant she could return to the team in time for volleyball season," Preston said.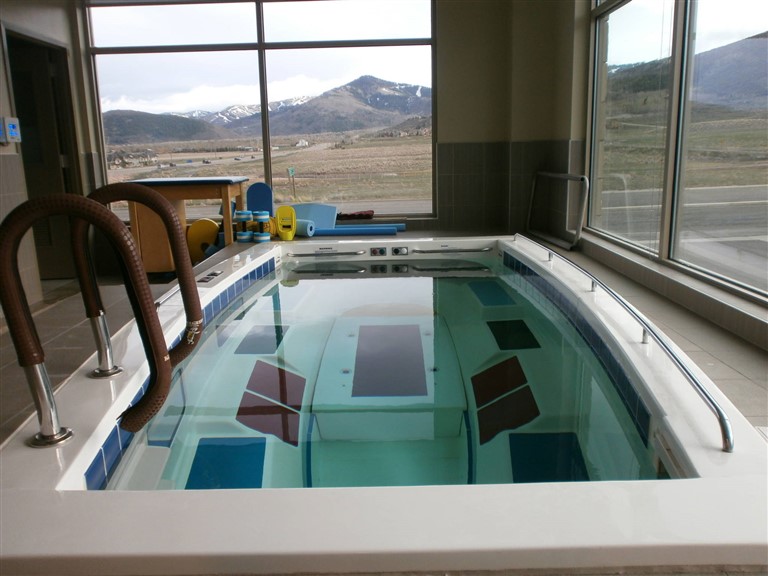 The SwimEx at MountainTop offers trainers a wide assortment of treatment options, with its front-to-back work stations providing water depths of 48 to 60 inches. Preston has uses the pool to treat a wide variety of physical conditions, such as pelvic fractures, tibia or fibular fractures, hip and knee replacements, degenerative spine issues and post-op spine issues, ACLs, and rotator-cuff recoveries.
"The pool allows the patients to make great progress," Preston said.
Kristi found time between school, homework, rehab and volleyball games to send a grateful message regarding her treatment by Preston and the SwimEx 600 T.
"SwimEx has played an extremely important role in my early recovery from a broken ankle! Before I could bear weight, I was able to build my muscles and stay in shape through the resistance from the underwater current. With the help of SwimEx and my wonderful physical therapist Preston Hall, I will be back playing volleyball more quickly than I thought to be possible!"
~ Authored by Liz Lecomte
---
Thinking about adding a pool to your facility?
Use the FREE ROI calculator to measure the return on investment by pool type.
Also see our resources for hydrotherapists treating ankle injuries.