The Football North End Zone Facility at Troy University is a 70,000 square-foot, $24 million renovation project completed in the fall of 2018. Dedicated to Troy's Football program, it features a new locker room, strength and conditioning center, athletic training facility with SwimEx hot and cold aqua therapy pools, two team lounges, and a mud room with a 40′ long SwimEx cold plunge.
"We know how important it is for us keep our athletes game ready," said Alyson Gramley, head athletic trainer for the Troy Football team. "The hot and cold plunge pools are ideal for game week activities. We use them as extremity pools, for hip and back protocols, aqua therapy, and emergency management."
The Troy hydrotherapy room was design by CBRE | Heery. The installation includes SwimEx medium hot and cold plunge pools that fit up to eight players. The units have bottom drains, filtration systems, and are equipped with auto UV and auto fill systems. The durable fiberglass pools have a solid wood core for superior temperature retention and feature a Gel coat finish that wipes down quickly. According to Gramley, the pools are super easy to maintain. "I like that we never have to check the chemicals or worry about filling them."
The 40' custom cold plunge, positioned directly off the practice field, is used for post-practise cool down, recovery, and emergency management. "The guys use this pool every day," said Gramley. "After practice they come off the field right into the mud room, shower, and go directly into the pool. Some of them sit for a while, some wade through it."
In addition to using the pools for therapy, Troy sees this SwimEx installation as a way to recruit and retain athletes. The 40′ plunge pool is as impressive as it is functional. It has a custom bench along one side and is light grey in color.
"We're really pleased with how the pools came out," said Gramley. "Throughout the process, SwimEx was great to work with. Our goal was to improve our football facility and this installation has not only helped us incredibly with our daily work, but it helps give us a competitive advantage."
Handcrafted to order, SwimEx plunge pools come in five standard sizes or can be custom built for specific treatments and protocols and delivered in sections for tight access areas. Vary the length, depth, interior configurations, benches, stairs, and color. Add logos on the tiles or on the bottom of the pool. Order one as long as 45′ or as deep as 6′ to meet specific training and rehab protocols.
All SwimEx plunge pools are free-standing, self-supporting, and can be installed in-ground or above ground. The solid fiberglass construction provides superior temperature retention and unmatched beauty.
---
More examples of sports teams taking the plunge with SwimEx:
University of Louisiana's Ragin' Cajuns
The University of Louisiana's Ragin' Cajuns insist their athletes take the plunge – a cold one – to accelerate post-workout recovery. Their cold plunge can accommodate the entire football team. It measures 7′9″ wide x 35′ long. There are benches down each length, a stair entry on both ends, and multiple jets with independent zones.
New York Rangers
The Rangers have cold and hot plunges that are 4½′ deep with no benches. This interior layout maximizes the treatment area and allows for full-body immersion, especially at the shoulders.
New York Knicks
The Knicks have a 4½′ deep hot plunge pool with benches. Their cold plunge has no benches but has multiple depths with the deepest depth at 5½′ for extreme versatility.
Jacksonville Jaguars
The Jaguars entered the NFL in 1995 and enjoyed early success, qualifying for the playoffs four years in a row. In 2017, they won the AFC South division and got to the AFC Championship. The Jaguars use SwimEx hot and cold plunges.
~ Authored by Liz Lecomte
---
Are you planning a renovation or want to add hydrotherapy? Download this free guide with tips and advice on how to get started.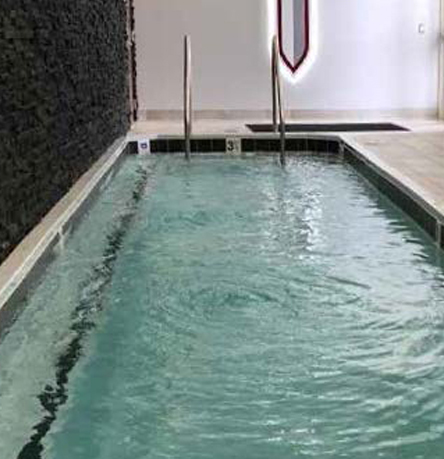 Hydrotherapy Room Design
for Athletes