UK SwimEx customer Caroline is incredibly grateful that she decided to purchase her 400 S SwimEx pool back in 2017. Her determination to find something that could offer relief from her back pain was quite the journey, but one worth taking.
Caroline shared her story with us, and the impact her SwimEx pool has on her daily life.
Looking for back pain relief
"I've had five back surgeries over the years, and from L3 to S1 I have no discs, just metal," Caroline explained. In addition to her back pain, she has a deformed hip. All of this means that Caroline is in pain from her head to her toes – every day.
Caroline and her husband, John, spent a few years searching for a pool. "When we first started looking, I tried an Endless pool, but the propeller made me feel like I was in a tumble dryer," shared Caroline. "I even tried one again, because I really wanted some relief, but it didn't help my back pain." Then her husband found an ad for SwimEx, and they reached out.
"The response time was great. The US office put us in touch with Richard, SwimEx's UK dealer, who immediately arranged to get me in a pool. As soon I experienced SwimEx's paddlewheel current, I had a massive smile on my face, it just felt so smooth", Caroline said, with enthusiastic energy.
A birthday present
All of this took place back in early May 2017, and Caroline was hoping she could celebrate her 53rd birthday that August with a swim in her new pool. She decided to purchase a refurbished pool and build a cabin in her backyard garden. Richard and the SwimEx team helped with everything along the way – from installation recommendations to collaboration with the builders.
"Everyone worked so hard to get it ready for my birthday", Caroline shared. Sure enough, she had her first swim in the pool on her birthday in 2017. And she hasn't missed a day of swimming since then.
"When I'm in the pool, it's the only time I'm not in pain," Caroline explained. She uses the pool daily, including adjusting the water temperature so she can use it for her exercises and stretches. "I used to go to physical therapy every week, and now that I have the pool at home, I only need to go every 8-10 weeks."
"Without a doubt, our SwimEx pool has already been worth the investment. It's changed my life," Caroline said.
~ Authored by Kristine Chochrek
---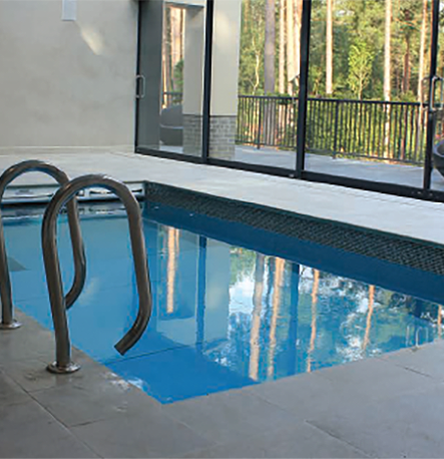 Practical tips for buying the best lap pool.