Team owner Jeff Vinik of the Tampa Bay Lightning spent $6 million renovating a new expanded practice facility. By 2018 the facility had an 18,000-square-foot addition to the Ice Sports Forum in Brandon, Florida that included a new weight room, locker room, aquatic therapy facilities and a video viewing area. Their hydrotherapy facility is a state-of-the-art room with state-of-the-art equipment. View photos of the facility.
Aquatic therapy pool: SwimEx 600 T series
The Lightning chose a SwimEx 600 T series pool, small hot plunge pool, and small custom plunge pool for their aquatic therapy needs. The 600 T is the most powerful aquatic therapy machine in the SwimEx hydrotherapy line. Popular with college and professional sports teams, this pool is extremely versatile. It has adjustable depths of 48″ and 60″ (122cm and 152cm). It features eight distinct easy-to-identify colored performance zones including angled plyo pads, open/closed chain kinetic exercise benches, floor inserts and an angled platform for the ultimate in aquatic running. Six tethering ports allow physical therapists the ability to lock in a patient during non-weight-bearing protocols. The adjustable floor offers the option to gradually increase weight-bearing activities, creating the ideal aquatic therapy environment for progressive strength training and rehabilitation programs.
The 600 T series also allows for an integrated underwater treadmill, where the athletes can capitalize on training, conditioning, and recovery from injury in the water without the stress of a treadmill on land.
Plunge pools
Hot plunge pools are used before working out help increase blood flow, flexibility and loosen muscles. Increased flexibility leads to less muscle strain and a more productive exercise session.
SwimEx plunge pools can stretch as long as 45′ or go as deep as 6′. The team was able to customize their plunge pool to their liking by removing one of the side benches to allow more room for their players. SwimEx plunge pools can be custom built. Vary the length, depth, and interior configuration to meet specific treatment objectives.
Tampa Bay won the Atlantic Division in the 2017-2018 and 2018-2019 seasons, and were back-to-back Stanley Cup champions in 2019-2020 and 2020-2021. Go the Lightning!
Download this free guide with tips and installation advice to help you start planning for a room like the Tampa Bay Lightning hydrotherapy room: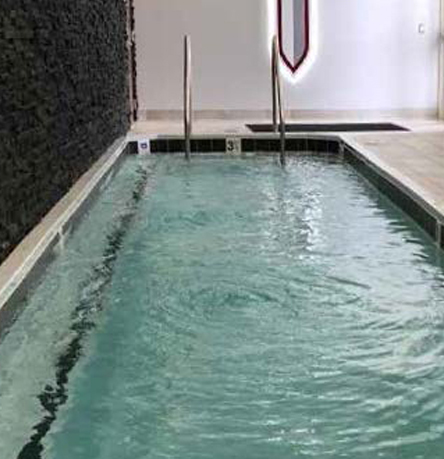 Hydrotherapy Room Design
for Athletes