Don't let a small backyard prevent you from transforming your outdoor space into a dreamy oasis. Whether your home style is traditional colonial, mid-century modern, or rustic farmhouse, your swim spa can complement the style of your home. Incorporate some interesting lighting and landscaping details to your space, and your family and friends will make memories for years to come.
These beautiful swim spa backyard designs offer the versatility and function of a full-sized pool in a much smaller footprint.
1. BACKYARD POOL HOUSE
It's easy to imagine anyone enjoying a swim in this custom-built backyard pool house, complete with a SwimEx 500 OS. Floor to ceiling windows and beautiful wood panels transform this small backyard into a serene retreat. A perfect place to unwind after a long day!
2. PAVER PATIO
This 1000 S built with a 6′ extension and custom interior suits this Michigan area backyard paver patio. Still smaller than a full-sized pool, the 1000 S is big enough for family and friends to enjoy swimming together. The added fire pit, dining area, and lighting encourages entertaining.
3. BACKYARD WATER FEATURES
A soothing waterfall in this small backyard space creates a peaceful ambiance. This 600 S pool was customized to match the patio stones. Landscaping and a small pergola in the grill area enhances the backyard design.
4. TELESCOPING POOL ENCLOSURE
Invest in a great pool cover that enhances your small backyard design and increases pool usage, like this telescoping enclosure around this 800 S. This enclosure is a great look and provides easy access to the pool in cooler weather. As an added bonus, the cover helps to maintain your desired pool temperature.
5. ENTERTAINING
Living by a lake usually means frequent visits from family and friends. This Virginia family created a backyard oasis that's ideal for entertaining. A stone patio surrounds this 500 OS with Caribbean Blue tile. A large outdoor fireplace keeps everyone warm during the cooler months. And you can't beat the view!
6. STYLISH DECK
Add some flair to your outside deck with steps and style like this one designed for Maryland homeowners. An extra-large plunge pool and colorful chairs add interest to this Arlington, Virginia home with views of the Potomac River.
7. BACKYARD PERGOLA
This above-ground 400 OS under an outdoor pergola is used all year long by this Northern California family. Pool owner Gale likes to keep the water warm at 88 degrees, and she has perfected how to swim and exercise in the pool without getting her hair wet! Everyone enjoys the pool in this inviting space, including Gale's two grandkids.
8. POOL DECK
A deck surrounds this 500 OS, built for this Cape Cod home. Installation details include recessed steps with stainless steel handrails and four built-in seats. Decking is installed under the pool coping. An outdoor shower completes the space for before and after swimming.
9. ARCHITECTURAL STYLE
When SwimEx owners Seth and Valerie decided to move, a second Triton was on the plans for their new home. The above-ground pool installation is below their second floor deck and matches the home's architectural style. The outdoor space includes a seating area, grill, water features, and a dining area. Learn more about the complete installation process in this customer review.
10. URBAN INDUSTRIAL
A small backyard is common for city-dwellers. This above ground 500 OS fits well with its industrial surroundings. If you dread the thought of a swim in a public pool, or a trip to the beach is hours away, consider a SwimEx pool. SwimEx pools can fit in spaces as small as 12' x 20'.
Are you ready to dive in? Our free guide has even more tips and advice to get you started: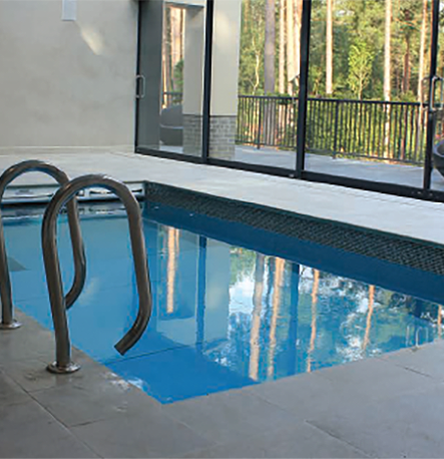 Practical tips for buying the best lap pool.