If you've been dreaming about a pool at home, a cocktail pool may be the ideal solution. For over-the-limit fun, fitness, and relaxation, cocktail pools serve up a sizable wow factor. Everything about these small pools (from features to extreme function) far outweighs the perks of a full-sized swimming pool.
Cocktail pools can be installed inside or outside. With a smaller footprint, you have more installation options and less construction for a more budget-friendly install.
These cocktail pool designs are perfect for exercise, swimming, and entertaining.
OUTDOOR LIVING
What's better than an outdoor living space with a pool and plenty of cozy seating? This cocktail pool design takes up a footprint small enough for the homeowners to incorporate both a fire pit and a large sectional sofa. The outdoor space includes a large stone fireplace, a grill area, and a patio built around a tree. A beautiful arbor and brick walkway welcomes family and guests into the pool area.
SUNSET VIEWS
Imagine enjoying a swim at sunset every night from this spot in Grasonville, MD. What beautiful views of Prospect Bay! This 500 OS was installed below ground as a single piece with coping above the deck. Large columns make a statement on this beautiful deck with a pergola over the pool area.
GO BIG
Still smaller than a full-sized pool, this custom cocktail pool design is a 1000 S with an 8-foot extension. Complete with custom benches, lighting, and colorful tile at the waterline, this cocktail pool can comfortably fit at least 12 people. This home addition includes a full kitchen for entertaining and a space for changing and storage. A perfect spot for pool parties all year long!
WHIMSICAL GARDEN
Pops of green grass, flowers, and trees enhance this colorful cocktail pool design. This 500 OS partially inground pool was installed in this stunning stone step-up patio. A stone walkway in the yard leads to a hot tub for relaxation after an intense workout in the pool. White lantern posts provide enough light for an evening swim.
POOL HOUSE
Your very own private temperature-controlled indoor pool means you can enjoy swimming and exercising any time of day and any time of the year, no matter what the weather is outside. These homeowners created an outdoor retreat that includes a small pool house and firepit area. There's plenty of room for swimming and relaxing in their 400 OS in this cabana-sized house. Large accordion glass doors make the space feel even larger. A southwestern landscape design with rocks and gravel complements the stone wall that surrounds the yard.
---
While they are small, don't let a cocktail pool's size fool you into thinking they aren't functional. You can enjoy the same activities in any one of these pools. Swim, exercise, get a full body workout, rehabilitate, or relax against the resistance current.
So take a shot and jump into your own cocktail pool. Our experienced staff can help you with the perfect design for your home. You'll be glad you did.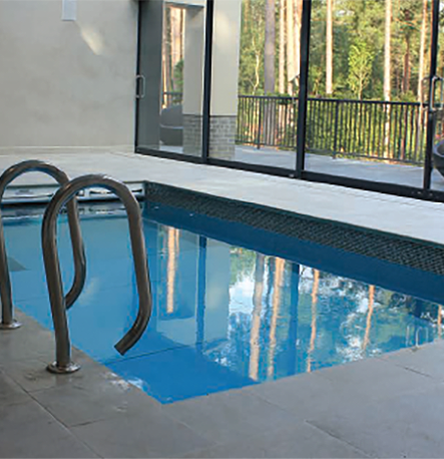 Practical tips for buying the best lap pool.